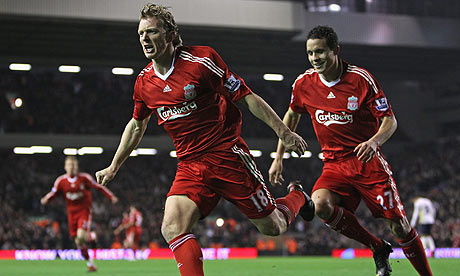 Anfield

Road was filled last night with scarves, banners, red shirts and chants. Quite simply the best supporters in the land lined the street more than an hour before kick off to cheer in the team coach.
Living up to the proud traditions and history of "The Liverpool Way" fans in unison came together for the good of the team, all with the sole aim of letting the lads and the manager know, they will never walk alone.
No matter how you try to question it, or try to think of a comparable moment the fact is you will not. Never have i seen, or will i ever see a club's

fan base

turn up, plaster the streets before a mid season fixture to show complete and utter support for their beloved team.
Manchester United? No. Chelsea? Well let's face it, they don't know what faith is, let alone how to back the manager...
A night like Wednesday makes you proud to be a Liverpool fan wherever you are and whatever the outcome was set to be, because that display of support you will NOT find anywhere else.
Rafa

Benitez

fielded an XI consisting of regulars, Pepe Reina,

Carragher

,

Mascherano

, Lucas and

Kuyt

along with

Kyrgiakos

,

Degen

,

Riera

,

Aquilani

,

Skrtel

and

Insua

. Playing 4-5-1 it was

Kuyt

up front as the lone striker.
Many doubters of the Dutchman were soon hushed as the fully pumped number 18 made it his duty to send home a brilliant ball which he received from the ever aware Alberto

Aquilani

.
After

Aquilani

had made the space,

Kuyt

was already on a run into the box, with a perfectly timed ball through the Italian's pass set

Kuyt

up beautifully and he sent the ball past the right side of Spurs keeper

Gomes

with just 6minutes gone on the clock.
You have to go back to the

Wigan

game in December to find the last goal we scored within the first ten minutes of a game. Sometimes these early goals are just what you need, whereas other times, they are exactly what you don't want.
You know the old saying of "They scored too early." I was beginning to think this would be dripping from many a pundits mouth at the full time result, thankfully it wasn't.
With the scoreline kept at 1-0 until 90minutes, this was no coincidence.
Sotirios

Kygriakos

, the big Greek defender purchased with the last few pennies Rafa had available, people actually laughed when the long haired number 16 held up that scarf with

Benitez

back in August, the word "flop" was already being written in most newspapers.
Roll forward to January 2010 though,

Kyrgiakos

is given a chance to break into the squad after more injury trouble struck the back four of Liverpool. After a brilliant performance against Stoke and even getting on the score sheet, still sceptics were wondering whether he could put in a repeat performance against the attacking threats of

Tottenham

Hotspur

.
Repeat it? He smashed through and past it.
Quite easily the best player on the pitch bar the credit given obviously to goalscorer Dirk

Kuyt

, the centre back won every single header, he was strong, got stuck into tackles, supplied crosses a winger would be proud of, made sure he was there or there abouts when the corners were being whipped in, had a 100% passing success rate and showed sheer passion in his performance.
Roll back again to summer 2009 and let's dig up a few Rafael

Benitez

quotes:
"He is strong and good in the air, and we were looking for experience and he is the perfect answer."
"He can score goals and will be a threat from corners and free kicks."
Less like an analysis of his previous performances, more so a prediction for his Liverpool ones to come, i don't know what more you have to see to note that

Benitez

is

knowledgeable

in the transfer market, i suppose i could always run off Alonso, Garcia,

Benayoun

,

Mascherano

, Reina and Torres again, but the proof is in the pudding.
On the back of that performance he more than deserves to start against Wolves on Tuesday night, i for one hope he does.
Another man to note was the already highly criticized Alberto

Aquilani

, having played 80 minutes he barely put a foot wrong. His highlight of the game was by far the assist he provided to Dirk

Kuyt

for our first goal, but not to be missed was his work ethic.
A lot

of pundits have come out in recent weeks claiming that when he is on the pitch he does not appear to be trying, some even calling him lazy. Last night's performance was far from lazy, constantly finding himself in acres of space due to his movement he was a vital link in midfield, his passing again was good and a few of his crosses also nearly led to more punishment for Spurs.
Riera

, another hard worker worth pointing out, just back from injury he had a good spell on the left wing, plenty of threatening crosses and at one stage even found himself close to scoring with a great header that he saw hit off the crossbar.
Degen

, again was excellent, the only moment of frustration being when he found himself

in front

of goal, the crowd

begging

for him to shoot and he opted to attempt the square to

Kuyt

, it didn't work, he should have just smashed it but by no means is that a shadow on another top performance from the Swiss.
So the combination of a refreshed Liverpool team mixed with a

lacklustre

Spurs is what kept the scoreline at 1-0. Although Spurs found themselves often in possession, they were unable to keep it, passing from the likes of Defoe and Bale were just two examples of how nervous Spurs looked.
The best chance they had was when Defoe found himself chasing a misplaced pass from

Kyrgiakos

, when Reina managed to get to the ball before Defoe and attempted to replay it to the defence it appeared as though he was fouled, Defoe took his chance and put the ball in the net but the whistle had already been blown.
At first i thought it was because Pepe had been fouled but apparently it was because Defoe was judged offside, in my book if Defoe was offside when the Spurs player played the ball but he was not offside when the touch came from Kyrgiakos and then Reina. A slightly confusing matter which i still can't suss out but the fact of the matter is i have no sympathy for

Tottenham

, firstly because we've taken a shed load of bad decisions in our last few matches and secondly because in all fairness i didn't think they deserved it.
90minutes, David

N'Gog

has only been on the pitch for 10 minutes and is

blatantly

taken out by

Bassong

, for a man who forgot to put his shorts on, this was not a very good idea.
Dirk

Kuyt

steps up to take the penalty and strikes it perfectly, with power and accuracy he drives the shot into the net only to be told he

must

take it again.
For a guy who was clearly devastated after missing that last gasp chance to take all 3 points from the Britannia he was calm and composed last night, just when he needed to be and with no hesitation at all he thumped the second effort past

Gomes

.
I haven't been this happy over a Liverpool result in a long time, with the combination of fans gathering before the game, a pumped

Anfield

, Rafa getting the last laugh, Spurs getting done by a real top 4 team and the fact that the gap has now been closed to just one point.
In my book, that's bragging rights until

at least

February whatever happens.
With Wolves up next you should definitely tune in for my match preview and match report. For those of you that don't know why i

t

will be especially tasty, i direct you to this
post
and this
post
.