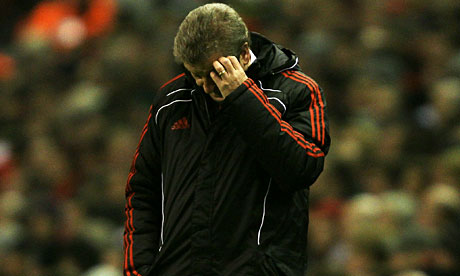 He looks down himself, please stop dragging us with you!...
Folks, i apologise in advance for the nature of this post, it's rant driven and probably more of a moan than an analysis but i can't be blamed after that performance last night!
As you will know if you follow me on Twitter i went into town (Wolverhampton) to watch the match with a few mates and me fella (Wolves fan). The Litten Tree in town is always a top atmosphere to watch matches in but this wasn't going to be like when i go to watch Liverpool v Manchester United and both sets of fans have roughly equal amounts, oh no.
I think i heard/noticed a few Liverpool fans but i'd take a punt at the pub being 98% gold and black, certainly all the people around the area where we were standing up were all following the home side. So that sets the kind of scene i was in for you.
First shock of the night was Roy's chosen line up. Admittedly i wasn't too worried at first with Kuyt on the left and Meireles on the right but as the match played out it did eventually become obvious that this was either a poor decision or a risk that just didn't work.
Gerrard of course was back in midfield and thankfully Lucas started instead of Poulsen. Another point to note was the missing Maxi Rodriguez who has arguably been our most effective player in recent games. Torres and Ngog were the front men, again i hate this scenario, i've mentioned before i'd love for Liverpool to try reverting back to 4-4-2 (I often wished Rafa would have tried it) however, i don't believe you should force the matter, Fernando Torres and David Ngog are both good players but i just don't think they work well as a team.
For Wolves they set up the same side that they put out on Boxing Day except this time Mick McCarthy had started their star man Matt Jarvis. Ebanks-Blake was their main striker and the manager also stuck with Wayne Hennessey in goal.
The match started in similar fashion to most of Liverpool's games this season, no real sense of urgency and it was just a steady passing set up. A chance quickly appeared for the Reds when Raul Meireles found himself in front of goal but fluffed his chance, perhaps also due to good pressure from the Wolves defence but i don't think we can fall back on excuses for the number 4's waste.
With a sort of chance having occurred so quickly the tone set originally was a positive one. This however would not take long to deteriorate.
With Paul Konchesky being his usual bumbling self on the left flank it was no surprise that Wolverhampton Wanderers began to gain a foothold on the game. Matt Jarvis had all the space he wanted on the right hand side and although it's harsh to say i literally do not think there would have been a difference if Konchesky wasn't there. Absolute shite!
David Ngog for Liverpool was perhaps the only poor excuse of a threat on the Wolves goal that we had. I've always said his hold up play was brilliant and is often not noticed, this combined with his efforts to get Liverpool on the score sheet for me meant that he was the only player on the pitch who was playing well.
With Wolves now getting even more confident and crosses flying in from that man again Matt Jarvis, Liverpool's defence was called to duty on several crucial occasions. I'd praise the fact that we kept a clean sheet for 55minutes but the defending was slapdash at best.
Kyrgiakos is a superb defender but the one criticism of him is that he often plays too dangerously in the box, he is one to try his luck with a shirt pull or grab but last night he was playing way to close to crossing that line. Fortunately because Christophe Berra was also having "one of those nights" neither side ended up getting a penalty as the referee appeared happy to let both the defenders play handbags each time there was a corner.
(Kyrgiakos pissed me off too because he didn't score! That's another quid down the drain on my first goalscorer hopes!)
By half time i had no confidence left at all. Even before kick off there was barely any faith there but 45minutes of football at Anfield and Wolves were easily on top. You could feel the dreams rising in the pub, at this stage though nobody had really noticed that i wasn't following the home side, some people looked a bit baffled when i shouted "Konchesky's a load of shit" at the screen and kept chanting "Gypo!" when Hunt came on the tele but other than that they were none the wiser so far. How things would change.
It was hard to believe how we could be less effective second half but Liverpool under Roy Hodgson's defensive and defunct tactics meant there was a whole new scale of how terrible a side could be.
55minutes and Wolves deservedly got themselves a goal. Stephen Ward of all the bloody Wolves players though?! Even me fella who is prone to supporting all of his players as much as he can (even if they're shite) had said earlier in the game that Ward was bloody terrible. So basically not only was it bad enough we'd conceded (no thanks to Martin Skrtel's superb reactions) but perhaps the worst player on their half of the field had slotted it into the net. Charming!
Of course at this stage Rich (me fella) had relished his opportunity to get his own back on me from last year when i screamed in his face, his joyous jumping up and down was bearable, partly because i knew how crap we were playing and that we didn't really deserve anything less at this stage, putting up with the noise from the rest of the pub though was hard to deal with. I stood head in hands (Roy Hodgson stylee) and just tried to calm down before i snapped at one of the blokes next to me who had called Gerrard a twat in the first half. Can't stand fans like that! It wasn't even after a challenge or out just mindless abuse, of course i know and he knows it was fuelled by jealousy so i got over it.
It was quite clear now that the Reds were providing a poor excuse for a game of football and trying to get through a strong Wolves midfield was proving more and more difficult, hence a change was needed, ideally Maxi Rodriguez, Joe Cole or even Ryan Babel. Although i find Babel frustrating i did think his pace could have added problems so to see him getting warmed up was ok, i could understand the thoughts behind Roy's choice there (surprisingly) but then...
"Substitution: David Ngog" ... WHAT?!
I know some of you reading (especially if you're a Wolves fan) will think this is a good substitution and yes sometimes maybe it would be but David Ngog in my eyes was the only one worthy of being on the pitch. Steven Gerrard despite his best attempts was clearly suffering from no game time straight back from injury, Fernando Torres was clearly struggling and the only other real attacking options i.e. Kuyt and Meireles were either invisible or wasteful.
Fair enough bring Babel on but take off Meireles for God's sake and put Ryan on the wing! Jesus Christ that was frustrating as hell to watch. I had to double check the numbers on the fourth official's board about three times!
Throughout all of this Mick McCarthy was up, instructing his team, instilling them with some support and making sure they were carrying out his brilliant instructions. Because let's face it, Wolves set up perfectly, similar to Blackpool they realised that teams don't get anything from being too cautious at Anfield. They may not have had tons of chances but they made it count when it mattered.
Ten more horror filled minutes went by, watching Liverpool with their backs against the wall was horrible, i've seen poor performances this season but this was abysmal. Wolves are bottom of the league for God's sake! We were supposed to be acceptable at home! This 90minutes was far from acceptable. On came Joe Cole, again i was quite happy with his introduction and thought taking off Meireles was a good decision but unfortunately for Joe he was once again unable to prove his massive wage packet.
Immediately after this substitution came the biggest cheer of the night from the Anfield faithful, ironically it came as Paul Konchesky was taken off and replaced by Fabio Aurelio. I do feel sorry for Konchesky but i don't think even he would deny how poor his game was last night.
Aurelio on at least should have meant some more attacking options were available. But then again Roy isn't too keen on attacking full backs is he? He seems to have a panic attack when he spots Glen Johnson in the final third.
87minutes and Liverpool's best chance of the game after a Steven Gerrard free kick was whipped into the danger area. Met by Martin Skrtel i was up in the air before the ball had hit the back of the net. This proved to be rather embarrassing.
Whenever i jump up to celebrate a goal (that means that much) my eyes leave the television, i often end up spinning around, arms straight up in the air... Point being, i had NO IDEA that the linesman had put his flag up. Rich's face turned from deflation to elation and i knew what had happened.
Was bloody gutted! But at least now everyone in the pub knew damn straight that i was one of those extremely rare "proper Liverpool fans" in Wolverhampton. To be honest, we didn't deserve to draw anyway and whilst momentarily celebrating it felt wrong to be so happy for an equalizer at home, to Wolves.
90minutes plus extra time was up and up rose the noise levels within The Litten Tree, to make things worse the DJ starting playing Hi Ho Silver Lining (which if you don't know is Wolves' signature tune before kick offs at the Molineux) at this stage i thought it was time to go to the toilets and have a strop before calming down and going back to say "fair play" to my other half. Texts from my brother, my boss, Facebook updates and Twitter pisstakes flooded in but then again i was expecting that.
Wolves though should have nothing taken away from them, although i believe we did play a part in making them look better they were solid, remained concentrated and supplied a regular threat for Liverpool to deal with throughout the 90minutes.
Here is a summary in the form of two photos for my time watching the match...
After thinking back on the game it is appropriate to note some of the fans reactions. Chants of "Dalglish!" and "Hodgson for England!" showed a side of Liverpool fans i have never seen. By no means am i saying it is wrong, hell i'm not one usually to slate a manager but even i joined in with the Dalglish chants in the pub. It's a shame because he's just a man, things shouldn't get personal, but how as a Liverpool fan can you sit back any longer and watch Roy Hodgson spiral this club even further into an abyss. He's not right for Liverpool FC. His tactics don't suit us and i dread to think what he's gonna do if he's here throughout the transfer window.
He's a nice chap and would be a top manager for some other club somewhere else but for us, his position is now untenable.
Some people maintain that it's the players but if that's the case then why after several cases of Hodgson making substitutions supposedly for the better has the outcome of the game still been the same? Players who would usually change a game last season when brought on i.e. Babel are now falling at the first hurdle. The players aren't totally free of blame of course, a football club only works when the two gel together but the staff playing the football at the moment for Liverpool FC clearly don't gel with Roy Hodgson.
His pathetic and downright cringe-worthy post match interviews too i have just about had enough of. His lack of instruction from the sidelines and visible portrayal of worry (i.e. Facerubitus) are no help to the team at all. It's just not working.
After that utterly terrible performance we are now in 12th place going into 2011 with Everton above us to make matters worse. This is unacceptable for Liverpool, something needs to change and fast before we start becoming candidates for the most shocking ever relegation candidates and i'm not even joking.
I can handle the weeks, months, perhaps years of stick that i'm going to get now what with living in Wolverhampton and having an other half who still nearly 24hours after the match thinks it's funny to make a 1 and a 0 with his hands but what i can't handle is what is happening to my beloved football club.
It seems more like decades ago when we were regularly contesting in the Champions League and actually winning trophies whilst pushing in a title race, not a manager ago and a few seasons.
Not sure how we get out of this one but let's hope that 2011 is a better horizon for Liverpool FC otherwise it's hello mid table and Carlton Cole... Robert Huth... Brede Hangeland... ughhhhhh!!!