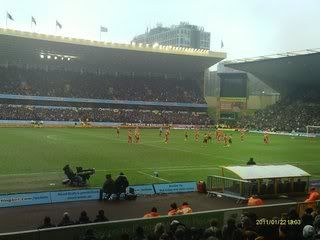 My view yesterday from the Billy Wright stand (i was sat with the Wolves lot)...
Ok so the song was bloody awful "they talk dead funny but they play dead great" but the meaning of the song, the passing and moving style of Liverpool Football Club, well it's what we all love. Yesterday the lads in Red proved that it wasn't unrealistic to go back to those days, with King Kenny in the dugout it truly felt like we'd rolled back the clocks.
The starting eleven did raise some questions from most fans before kick off, namely for the inclusion of scapegoat Christian Poulsen. I'm not going to lie, i myself have been one to highly criticize the midfielder and it was no different yesterday after seeing him on the team sheet. My natural reaction was "oh god" however, to be fair to the bloke, he totally shut my mouth after his stint.
Wolves set up in a 4-4-2 style with Fletcher and Doyle leading the eleven. Hennessey was in goal for the side in gold and black and captain Karl Henry was reintroduced.
In case any of you still don't know by now, i may as well quickly explain my reasons for sitting in with the Wolves fans. I live in Wolverhampton and work for a betting company in the Molineux boardroom, because i work there, once I've cashed up and stuff I'm allowed to go and find a seat to watch the match. It's harder to muscle your way in with the away fans so i settled for the family section in the Billy Wright.
Saw Christian Purslow and Suso too whilst in the boardroom and a couple of the other youths but didn't catch their faces so i have no idea who they were haha. Capello was there too but I've seen him loads now, getting bored of him!
Anyways back to the game. I missed the first 10minutes or so but thankfully i didn't miss anything of note. The lads started steadily and it was easy to note that Dalglish had set them up to attack. Away from home lately, especially under Roy Hodgson, it was a drab display every week for the travelling fans but this time would be different.
As everyone has surely already noticed, Fernando Torres is back to his old self. His few games under new management seem to have sparked something and the fear he instills into the oppositions defence is well and truly back.
Liverpool's number 9 got the Reds off the mark just after 30minutes. With several attempts beforehand either going just wide or being blocked, it was only a matter of time before the Spaniard punished the sloppy Wolves defence.
A controversial moment has spurred since Torres slipped in his chance from a Meireles assist after Sky Sports presenters Andy Gray and Richard Keys were heard criticizing the female linesman and going as far to say that somebody should go and explain the offside rule to her. Hilariously though, the official got the last laugh after a superb decision due to Zubar playing Meireles onside.
A disgrace to say the least i feel but i also had several fans sitting in my vicinity saying the same thing. It was only after one of my work colleagues who was sitting near me rang his brother to ask if it was offside (to which he replied no) that everyone bit their lips. I found it appropriate at this point to say "Now what do you think of female officials?!" Some people laughed, others just kept quiet, either way i felt smug.
Another moment to take note of was the cheeky little dig from Fernando Torres after scoring Liverpool's first. The number 9 jogged up to Richard Stearman and gave him the ball. So simple but so gutting for the Wolves defender to take, they had been having spats throughout the game and it looks like Torres got the last laugh.
Wolves' only real effort came just before half time when a close range attempt in a packed penalty area was saved by Pepe Reina. Other than this, Liverpool didn't really have very much to deal with, Mick McCarthy's side were a shadow of the team they were at Anfield, and attacking wise, they were very poor.
Lucasade...
Lucas grabs a refreshment at half time...
After a strong first 45 minutes from Liverpool it only took them 10 minutes in the second half to get themselves another goal. Raul Meireles who had been on fire from kick off delivered an absolute peach. After Kuyt battled for the header the ball splayed out to the number four who hit the ball first time on the volley, his effort dipped as it travelled and Hennessy had no chance. Gets better each time you watch it and I'm so glad i got to see it live!
By now Liverpool were running rings around Wolverhampton Wanderers, even though our second goal was by no means due to a defensive fault, McCarthy's back four did look somewhat unsteady.
At 70 minutes Wolves introduced new signing and ex Liverpool player Adam Hammill. He replaced the ineffective Stephen Hunt. An immediate impact from the 22 year old after some fantastic balls into the box gave Wolves some attacking options.
Liverpool replaced Poulsen with Shelvey and Maxi with Aurelio in the run up to 80 minutes. To be quite honest i think we could have continued without making any substitutions but it was good to see Dalglish add some fresh legs into the game.
The three points were safely intact but just to be sure Fernando Torres decided to settle the deal with a second goal. In a build up which saw 31 completed passes before it even reached the Spaniard i think that must be credited. A superb display whether it was Barcelona or Barnsley I'm sure you'll agree and yet another point proving that pass and move is an ideology that works, it's not old fashioned, it's just good football.
Torres finished with another close range effort eventually when he finally received the ball after all that passing.
A clean sheet, three goals, no real defensive mishaps, an actual good display from Poulsen, all this without Gerrard or Carragher and done almost effortlessly. We made Wolves' 1-0 win at Anfield look pathetic and i for one am so glad because it was my turn to gloat to the Wolves supporting fella! He thought it was funny to make a one and a zero with his hands but he didn't like receiving a three and a zero from my hands in a picture message! Haha.
Here's a short video i took (sound quality ain't great) from the fans singing You'll Never Walk Alone at the end. The banners (white sheets) you can see in the video when i move towards the right of the stand were in memory of Joey Cummins, a massive Liverpool fan who was tragically murdered in the city earlier in the week.
I've only been able to go to see Liverpool on three occasions due to money, fixture clashes with work and difficulty getting to games etc but this game is easily the best so far. Nothing will ever take the magic from watching my first match at Anfield (see here) but performance wise, this game tops it, sitting with the Wolves fans was a minor set back to see this.
Up next is Fulham at home, here's hoping that yesterday's win was the first of many to come!