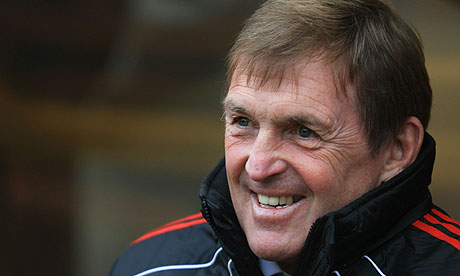 The King signed permanently this week, here's to a wonderful three years!...
In a weekend of Eurovision madness can Liverpool tomorrow ensure Harry Redknapp's Spurs gain nul points after 90minutes of football? Three points for Liverpool would not only add to their fantastic form of late but it would also secure mathematically 5th place.
For Spurs it appears their plans and claims of breaking into, even winning the league by manager Harry Redknapp have been completely forgotten about. A decent run in the Champions League - fair play but have they had the consistency to back up their claims that they are in fact a top four side? No.
Liverpool claiming victory tomorrow will not only show our determination, even when faced with the somewhat hindrance of the Europa League but it will also prove to the media and maybe some deluded Spurs fans that just like us, they still have a lot to do.
Spurs are missing quite a few men for tomorrow's tie at Anfield. Doubtful is Wilson Palacios and so too Gareth Bale who suffered an ankle injury recently. Out of action are Assou Ekotto, Huddlestone, Hutton, Woodgate, Jenas, Khumalo and Gallas. So too is goalkeeper Gomes, he's a bit of a Jekyll and Hyde i think for Tottenham but he's pulled out some good displays for the London side, without him in goal you'd feel Liverpool had an extra edge but his replacement will probably be Cudicini who certainly knows his way around a penalty area.
For Liverpool we have doubts hanging over Raul Meireles who had to be substituted in the 5-2 win over Fulham and also Carroll although back in training may not feature. Agger and Milan Jovanovic are both out with knee problems whilst Aurelio and Kelly are both still nursing their hamstrings. Captain Steven Gerrard is also obviously still unavailable.
Youngster Flanagan is certainly making a name for himself in the side and i have no doubt he'll be picked again tomorrow by Kenny Dalglish. The 3 year contract signed by the King this week means we can look forward to more infiltration of the best of Liverpool's young talent.
With Kuyt, Maxi and Suarez on such great form and the pairing of Lucas and Spearing making the midfield a hard place to break through i feel very confident tomorrow, especially with the added extra of being on our own turf.
Tottenham haven't won a match in their last 6 games. Their last four fixtures in the league have seen them draw with West Brom, lose to Chelsea and City and draw with a fighting Blackpool side. The Reds in contrast can boast wins over Fulham, Newcastle and Birmingham plus a draw with Arsenal.
Stat Sandwich
- Dirk Kuyt has scored 9 goals in his last 8 games.
- Spurs have scored 12 league goals from outside the area this season, more than any other team.
- Liverpool are unbeaten in 16 games against Spurs at Anfield.
Confidence is running through the ranks and Dalglish will be back to work tomorrow sprinkling his instructions with the help of Steve Clarke and a clipboard wielding Sammy Lee. With one game left after this i do feel sad but at the same time the excitement for next season is immense. For now however let's secure that 5th spot!