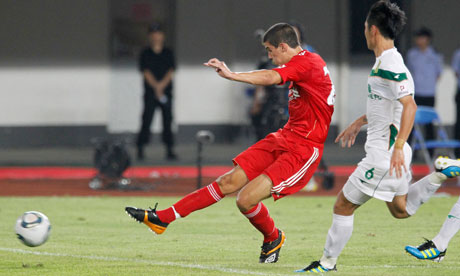 Conor Coady's strike gave Liverpool their third goal...
Liverpool today got their pre season off to a winning start with a game that had goals galore. It was an action packed match in the far East and Guangdong provided more excitement than most predicted.
Kenny Dalglsih had the opportunity to parade several players including youngsters Wisdom and Coady, plus new signing Charlie Adam.
The Reds were without a few familiar faces namely Reina and Gerrard who are both recovering from injuries and also our South American friends Suarez and Lucas were occupied elsewhere with the slight matter of the Copa America.
It was absolutely fantastic to see Aquilani back in a Red shirt and with the mixture of talent available to Dalglish i don't think anyone would have predicted the first goalscorer.
Poulsen of all players and with a volley connected off a Joe Cole piece and put Liverpool 1-0 up. David Ngog fancied a piece of the action shortly afterwards and slid home a second for the travelling side.
A watchful Dalglish on the sidelines wearing some dashing spectacles (why does he need glasses in China but not at Anfield?... Answers on a postcard) appeared very pleased with his sides performance thus far.
Just before half time Guangdong got themselves in on the action and Ricardo put one in the net to the joy of the fans packed in the stadium not only to see their home team, but to gaze at the Liverpool starlets.
In the second half Liverpool capitalized on a somewhat steady first 45 minutes. It was up to Coady to get the third goal and a fantastic shot from a way out fizzled past the keeper and into the net. Attempts to hide his obvious elation were soon released with a massive smile when congratulated by fellow youngster Andre Wisdom.
A close range finish from Andy Carroll topped off the scoring for the Reds. Despite going on to win, a lack of concentration in the dying minutes saw Lin and Hongbo score for the Chinese side. An unsuspected scoreline of 4-3 ended Liverpool's first ever game on Chinese soil.
Back home this evening I'm sure some midfielders on tour with Liverpool will be worrying about their certainties of a place within the team as it has been revealed that Liverpool have agreed a fee for Stewart Downing.
Probably in the region of £20million i do feel the price tag is slightly high but in all honesty the signing of Downing excites me. It's great to see action from within Anfield in the transfer window.
Here's to the recouping of some more cash from getting rid of some of the dead wood lying around (ahem Konchesky and the like) and hopefully some more purchases this summer for Liverpool!