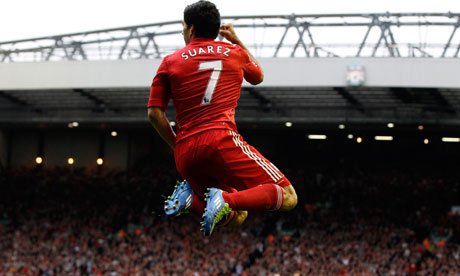 Liverpool put two past a gallant Wolves side yesterday in an entertaining fixture for the Reds. The first half was pretty much one way traffic but second half substitutions from Mick McCarthy allowed Wolves to get back into the game with a goal from Steven Fletcher.
Liverpool opened the scoring with a little dash of magic from lady luck. Charlie Adam saw his chance to have a pop at goal and struck with power, the attempt looked as if it was going wide but Wolves captain Roger Johnson made the decision to stick his head on it and put the ball past Hennessey and into his own net.
It was almost laughable because nobody could see why Johnson put his head in the way, whether it was because he didn't have time to think i don't know but it was a bad mistake from the defender.
Some controversy in the build up to the goal too meant Johnson had words with referee Kevin Friend. Whilst watching live i personally think Johnson went down like a sack of spuds and to me the push was more of a case of Andy Carroll steadying himself for the header, after watching it on the highlights though maybe Wolves did have a case, either way, fouled or not, that isn't an excuse to stick you're head in the way of a harmless attempt.
Wolves were pretty absent in the first half and Pepe Reina was left jobless. Liverpool on the other hand were looking strong, Downing was constantly threatening on the wing and Suarez also was causing numerous problems for the Wolves defence.
It was Suarez who would put the second past Wolves shortly before half time. An attempt to play the Uruguayan offside by Wolves failed miserably as the number 7 set off towards goal.
Some lovely footwork saw Suarez leave Berra dumbstruck as he weaved back and forth and took time in his set up. Beating Hennessey at his near post, a superb goal put Liverpool 2-0 up.
The assist came from Jose Enrique who i feel the need to highlight, what a player this man is. I've been nothing but impressed with the defender since we signed him, not only is he calm and collected in defence but he can certainly cause trouble with the long ball. Brilliant player.
Half time saw substitutions from the away side. Manager Mick McCarthy surely spotted that his 4-5-1 set up was not working and by putting Fletcher on up front with Doyle, it was a totally different second half. Youngster Matt Doherty also came on.
Steven Fletcher took just 3 minutes to stamp his mark on the game. The forward received a great ball from Stephen Hunt and with a lovely finish, smashed one into the back of the net.
What was worrying for Liverpool i thought was that as soon as Wolves were in celebratory mode, Anfield went from an upbeat atmosphere to an angry and frustrated one. At this stage we still had control of the game and people forget the affect an atmosphere can have on the side.
For the next 10 minutes Liverpool looked very shaky, i was beginning to think we would never settle down. If Wolves were going to find an equalizer it would have been in these moments.
Liverpool still had plenty of chances but play had now switched to a counter attack style. With Wolves continually finding more confidence, the Reds had to take their chances to break.
Suarez was denied after a fantastic save from Wolves keeper Wayne Hennessey shortly after the Fletcher goal and so too was Stewart Downing.
Wolves maintained momentum and continued to throw everything at us, but importantly, Liverpool held their nerve and defended well. It may not have looked pretty but it would have taken a lot from Wolves to break through and truly trouble Pepe Reina.
Dirk Kuyt came on for Jordon Henderson at 70 minutes and was followed soon after by Steven Gerrard who replaced a frustrated Luis Suarez.
Steven Gerrard considering he's been out for 6 months didn't seem a shadow of his old self and got stuck in immediately. Particularly when he headed the ball down to set himself up for a shot that he sent over the bar.
Wolves followed suit with the subs and Stephen Hunt made way for Guedioura with 10 minutes left. I mentioned the Algerian in the match preview and i know a lot of Wolves fans were frustrated that he didn't start. He was a lease of life for the away side and had an attempt fly over the cross bar straight after he came on.
The full time whistle saw Liverpool walk away with all 3 points. Some people are saying that Wolves deserved a point, others are saying we deserved the 3. You may think I'm bias but in my honest opinion i do feel we worked hard for those 3 points and deserved them.
Wolves no doubt were the better team second half but there's no point throwing everything at us and barely making Reina flinch. Our defence fought hard and kept out every attempt, plus in the midst of all this we had chances aplenty.
One thing i will say though is it was a cracking match to watch. I said I'd do a diary style post but figured it would be better to leave it until the end. I basically went to a pub in town that we go to quite often with two mates, there was absolutely nowhere to sit.
I spotted two or three Liverpool fans but it was rammed with those in gold and black. Managed to find a seat so plonked it right in the middle of a stack of Wolves fans in front of the big screen. Then shortly after two blokes watching the City match got up so i got us all three seats directly in front of the big screen, we were surrounded by Wolves fans, it was hilarious!
Got to say though, chanting the Suarez tune and dancing around after he netted that stunner encircled by opposition fans is a quality feeling! Haha.
Next up for Liverpool is the Merseyside derby against an Everton side going pretty well at the moment. Should be a good game, bets in early for first player to get sent off.