Merseyside Derby At Goodison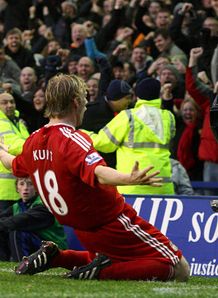 Dirk Kuyt looks for his 50th goal in the league and his 6th Premier League goal against Everton...
It's that time again, when a city is split in two, families divide and half the squad get booked with 3 sendings off... That's right, it's the Merseyside derby!
Year in year out, it never fails to entertain and although Everton are still miles behind with their silverware collection, they're never too far behind over 90 minutes.
Everton have had a decent start to the campaign despite losing the influential Arteta. New signings in the likes of Vellios and Drenthe have added a new element to David Moyes' side who will obviously be looking to do one over their neighbours on Saturday.
Unavailable for Everton is Victor Anichebe who is out with a groin injury and Tim Cahill is a doubt. For Liverpool we are still without Daniel Agger, though the Dane is back in training. A doubt too is Glen Johnson and we're expecting Gerrard to once again start from the bench.
I'd offer some of my daft opinions on Saturday's clash but the fact is, you just never know with the Merseyside derby. Everton's side have a lot of members who have played in this fixture before, whereas Liverpool's starting eleven has changed quite a bit.
The experience of Jamie Carragher and Pepe Reina will no doubt keep the defence calm but it will be interesting to see what Luis Suarez, Andy Carroll and Craig Bellamy do depending on who the manager picks.
Andy Carroll was a hell of a lot better against Wolves and although he failed to score there were plenty of aspects in that game that if used in this fixture could cause trouble for the Toffees.
Everton have beaten us 4 times in the last 10 years at Goodison Park, most recently of course in October last year. The home side put two past the Reds in a dismal display under manager Roy Hodgson.
You can bet somebody will get sent off tomorrow, I just hope that the red mist doesn't descend on Suarez, I'm awaiting the moment when he pushes the ref too far and if he does it against Everton, it would be disastrous.
I've had the Uruguayan in a cheeky 3-1 punt. Not realistically what i think is going to happen but it's certainly something that
could
happen.
Got to watch the match at work in the boardroom, at least i get to see it I suppose rather than completely missing it or having to watch a dodgy stream.
Enjoy the match folks! Let's do these bitters!