Carroll Scores In Derby Win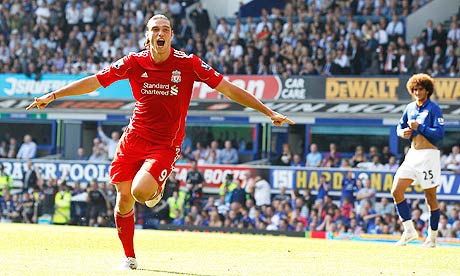 The Merseyside derby was once again packed full of twists and turns as Liverpool eventually walked away with all three points. The Reds managed to put two past a ten man Everton side with Andy Carroll and Luis Suarez getting themselves on the score sheet.
Early proceedings saw Luis Suarez denied by a good save from Tim Howard and Everton's Louis Saha unlucky on several occasions. It was pretty level pegging but already the tackles were flying in.
The first real incident involved Jack Rodwell. Referee Martin Atkinson believed the foul on Luis Suarez was so bad, it deserved a straight red card.
From the way Suarez hit the deck, it looked a lot worse that it was and after looking at the replays, Everton certainly had a case. In my eyes in wasn't even a foul, a warning would have sufficed. A red card for such an incident is quite shocking but i can't say i was too bothered at the time.
The thing is, even if Rodwell was still on the pitch, it was too early to tell which way the game would swing and i wouldn't have been surprised if there wasn't a sending off at some point afterwards anyway but it was a bad decision.
Now with ten men, the Toffees has to remain focused, it would be too easy for them to just give way and to be fair to the home side, they played well in the run up to half time.
Liverpool were also having a decent game and searching for a goal to break the deadlock. Suarez was looking the most lively with a shot going wide just before what would be a big decision for the boys in red.
Martin Atkinson awarded a penalty just before half time after a Jagielka challenge on Suarez in the box. This time, Atkinson got it spot on and thankfully Liverpool had a decision go their way for a change this season.
Dirk Kuyt, the man who is on 49 Premier League goals for Liverpool stepped up to the penalty spot. The shot from the Dutchman was a good one but Tim Howard had other ideas and with a brilliant stretched save prevented Kuyt from getting to 50.
Tim Howard minus obviously the two goals was a force to be reckoned with for the majority of the match, at stages it felt like nothing was going to get past him.
A slight set back after failing to convert the penalty meant the paced slowed a bit for Liverpool. By the hour mark, the manager decided to liven things up with a double substitution, Steven Gerrard and Craig Bellamy came on in place of Charlie Adam and Stewart Downing.
Although neither of the subs were really involved with the first goal, the changes must have helped somehow as ten minutes later the Reds put one in the net.
A lovely piece of play involving Enrique, Kuyt and Carroll. Enrique makes a run into the box and puts a ball in, Kuyt quickly decides to get out of the way and ducks to allow the ball to fly over his head, awaiting in the box is Andy Carroll who confidently puts the ball into the bottom right of goal.
His first goal of the season will surely help him on his way, he's been looking sharp for a good few games now and it's great to see him get off the mark this season.
Immediately after the goal, Liverpool were caught off guard, a counter attack by Everton nearly saw them get an equaliser. A livid Pepe Reina shouts at his defence after saving a shot from Tim Cahill.
It was Everton themselves who gifted Liverpool with their second goal, Distin set up Suarez after a mishap and the Uruguayan was quick to react. An easy typical finish from the number seven who secured Liverpool the three points.
Both sides got stuck in today and of course Everton fans will continue to moan about the Rodwell sending off but Liverpool i feel can be proud of that 90 minutes, a good performance in a big fixture and both strikers grabbing a goal.
Next up for the Reds is another big game as Dalglish looks to ready his lads for Manchester United's visit to Anfield.
My mouth is watering already for this one!