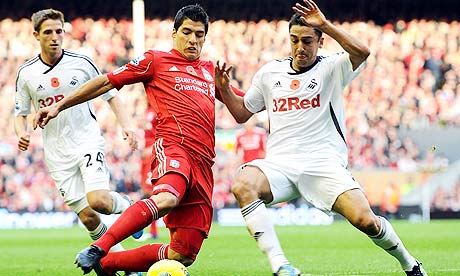 Suarez battles his way through...
Liverpool were held to a 0-0 draw with Swansea at Anfield on Saturday in a match which could have quite easily contained goals for both sides. Vorm and Reina played vital roles in the 90 minutes to keep the scoreline level and despite the Reds getting the ball in the net an offside call from Sian Massey ended the celebrations early.
It was an unchanged side from Kenny Dalglish with Carragher and Gerrard still unavailable. Good news to hear that the captain is now back in training though.
Andy Carroll had the first chance of the game when he connected with a cross from Stewart Downing. Just 6 yards out, the Geordie managed to miss, it was agonizing to watch and as Dalglish said himself, if that had of gone in, who'd have known how the match would have ended.
Of course, it was a bad miss but 6 minutes in you shouldn't need to worry about missing a chance at home against Swansea, because plenty more will come, right?
They did come. And just as quickly, they passed us by. Liverpool had 25 shots at goal in this match, I've lost count of how many matches we've had 20+ shots in now but once again the Reds just couldn't put one into the back of the net.
Swansea were superb, their passing and movement throughout the game showed their confidence and they too had their moments. Pepe Reina was called into action on several occasions but thankfully the Spaniard kept Liverpool in the game.
In the latter period of the second half the Reds appeared to have found their footing and for a good ten minutes or so Swansea were under the cosh.
Dirk Kuyt
had the ball in the net as Liverpool fans began to celebrate but a keen eye from Sian Massey spotted Kuyt in the offside position. It was gutting but in all honesty, Liverpool had taken all that time to even get something in the net, did we really deserve anything from this game?
Swansea had fought hard and Vorm once again was superb for the away side in the dying minutes. The two saves from Suarez and Johnson were fantastic and the Reds had to settle for just the one point.
Once again, it appeared to be a story of missed chances for Liverpool. For me, i had no qualms with the defence, midfield perhaps were a bit off but i agreed with Dalglish's decision to bring Kuyt on. To be honest, missed chances are one of the hardest things to fix, what are you supposed to do? Other than keep grafting, the magic will happen eventually and until then, as disappointing as it is all we can do is look at the positive of the unbeaten run.
Of course drawing with Swansea and
Norwich
at home is not ideal, nor is it really that acceptable considering the amount of money and talent on the pitch but we're heading in the right direction. We've struggled against these sort of sides at home for a good while anyway, the King is a legend but as they say, Rome wasn't built in a day.
With Chelsea and City up next i personally think the Reds will come out of their shell. I don't know if it's psychological but there's something about the Liverpool side when they face strong opposition. I think as well it may be worth starting Bellamy because at the moment although our strike force is creating chances a plenty, i feel the Welshman may give them a lesson in how to finish them.
Whilst i've got your attention, if you have two seconds spare could you please fill out my survey? I'm trying to gather opinions on the blog so that i can attempt to improve and change it depending on what peoples answers are. Would really appreciate it if you could follow the link! HERE.