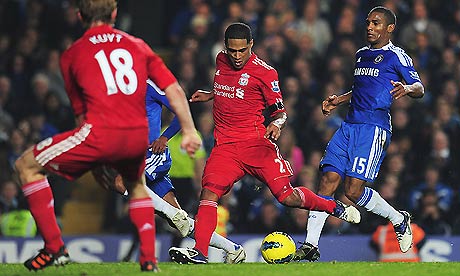 Glen takes his shot...
Liverpool took all three points away with them from Stamford Bridge on Sunday as the Reds put two past the home side. A brilliant work up to Maxi Rodriguez's first was followed by a Glen Johnson winner in the 86th minute. Despite Chelsea beating Reina at the hands of Daniel Sturridge, they couldn't quite keep their heads for the whole 90 minutes.
Dalglish changed the line up and it saw a first start given to
Maxi Rodriguez
. Suarez started with Craig Bellamy as his partner, there was no Stewart Downing and still no Jamie Carragher. Chelsea decided not to start ex Reds Torres and Meireles and Villas Boas chose Drogba to lead his attack.
The first half was easily the better half for Liverpool, they had control of the game and although Chelsea had their chances it was the away side that looked the more likely to change the scoreline.
Maxi Rodriguez was causing problems all over the pitch for a slow starting Chelsea side. The Argentinian hasn't started for Liverpool in the league at all this season and after his display some may be left asking why? His ability to get himself in to space and his quick thinking is some of the best within the ranks at Liverpool, with Dalglish tending to make the substitutes to the midfielders i personally think it should be Maxi starting and then being replaced after the hour mark, not the other way around.
Another man in a Red shirt creating havoc was Craig Bellamy, the Welshman is disliked by many but if anything it just spurs him on. Making several timed runs between the Chelsea defence and playing some cracking through balls, he too had a belter.
The first goal of the game came just after the 30 minute mark. An alert Charlie Adam had already foreseen what goalkeeper Petr Cech was planning to do, making up ground he quickly intercepted for Liverpool. Craig Bellamy grabs possession and with a run into the box plays a one-two with Luis Suarez he then sweeps the ball to Maxi Rodriguez who finishes his chance and puts the Reds in front.
The build up to the goal was fantastic, the confidence required to do that and the unselfishness of Craig Bellamy, it was just a class goal.
Half time was reached and clearly Chelsea were struggling, a substitution from Andres Villas-Boas saw Daniel Sturridge replace Mikel.
The start to the second half was more so in Chelsea's favour. Of course they weren't going to let their first half performance continue into the second but would this burst of possession and chances be enough to fluster Liverpool?
It worked,
Chelsea
found their equalizer at 55 minutes and Villas-Boas could take praise from his clever substitution. Sturridge put the ball in the back of the net for the home side after a cross from Florent Malouda.
Things began to become tense for Liverpool, Dalglish's side had started the game brilliantly but now Chelsea had put some pressure on, the focus was being lost. Silly little passes and giving the ball away was becoming constant but luckily the lads had chance to calm down and concentrate because Chelsea despite some great chances couldn't find a winner.
The cross flicked on by Ivanovic was probably the most daunting moment for Liverpool fans but a quality Pepe Reina got down low to make the save and keep the Reds in the game.
Just after 80 minutes Andres Villas-Boas decided it was time for another substitution, this time a double one. Fernando Torres and Raul Meireles, not worthy of starting apparently, were brought on in an attempt to find the winner for a now desperate Chelsea side.
The Liverpool fans went for the pantomime reaction to the substitutions because i think most know, we no longer require the work of these two players, we're more than happy without them and it was these two players who ended the 90 minutes with subdued looks on their faces.
Glen Johnson who had been fantastic all game made another attacking run down the flank at 86 minutes, a slight weave in the box set him up with a chance to get the winner for Liverpool and calm as ever, the ex Chelsea man slid the ball home past Petr Cech and John Terry who ended up on his arse. It was superb!
Victory is always sweet, especially in games like this but even more so when it's done in the dying moments.
Andy Carroll,
Jordan Henderson
and Stewart Downing also made appearances for Liverpool but it was left to perhaps two men who have started the least games so far this season to seal the win for the Reds.
With Manchester City up next, it may not be so far-fetched to feel that we have a chance of messing up their unbeaten run. After all, we're on one of our own. Plus the fact that Arsenal, Manchester United and Chelsea have failed to beat us so we should be more than capable of giving City a game.
And as for Chelsea, get ready for us in the Cup, youth team or not, we're coming out to win!