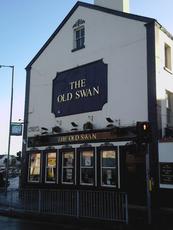 Perfect pub for the away fans? Haha...
Look at me, typing up a blog post for you all on my birthday after a full morning of Biology and Chemistry... Surely i deserve brownie points for that?? Haha!
Anyways, back on topic...
Liverpool welcome Welsh side Swansea to Anfield on Saturday. The Reds recorded a win over Roy Hodgson's West Brom in their last game whilst Swansea put three past a flailing Bolton side.
Injury news means that captain Steven Gerrard is unavailable. I'm sure you have all read the stories about his ankle infection, i just hope it's a speedy recovery. Jamie Carragher will be looked at late on after picking up a calf injury and that's all the problems for Liverpool covered, everyone else is fit.
For Swansea they are also in pretty good shape but Stephen Dobbie will be unavailable for manager Brendan Rodgers to select.
Dalglish has clearly been assessing this game carefully because it's no secret that the Reds over the past few seasons have struggled against promoted sides, especially at home. We also can reflect back on the Norwich result, still fresh in the minds of the players I'm sure so let's hope we can improve on that result.
Swansea are on a decent run and have had a great start to the season, a loyal fan base will surely provide some noise tomorrow too.
The last time the two sides met was in 1990. An FA Cup clash saw Liverpool put eight in the Swansea net with the Welsh boys unable to even find one consolation goal. In the league we have to go all the way back to 1983 where Liverpool again didn't concede winning 3-0.
Of course, because of the gap since the two teams have played each other, there's a large element of the unexpected.
Stat Sandwich
Liverpool are unbeaten at Anfield so far this season.
Swansea's away record is the worst in the league so far this season.
Liverpool are unbeaten in their past 7 matches in all competitions.
Another interesting stat i saw in a quote on the BBC was this "Luis Suarez and Andy Carroll have started together in four of Liverpool's last six matches - and the only games that failed to end in a Reds victory were the two they didn't start together." If that doesn't prove that their partnership is maturing within the side, not much else will.
I've predicted the correct score for the last two matches and both times have failed to put a quid on. I can't have a punt this week either as i won't have time on Saturday but once again i shall offer my opinion and this week I'm going for a 1-0. Obviously I'm hoping for a lot more but i still think we're sorting out our minor problems when facing teams like Swansea and even with Swansea's bad away record, they're going to be a hard team to beat.
Enjoy the match folks!
I'm off for a meal and maybe a few cocktails haha.