Gerrard Scores From Acute Angle In Newcastle Win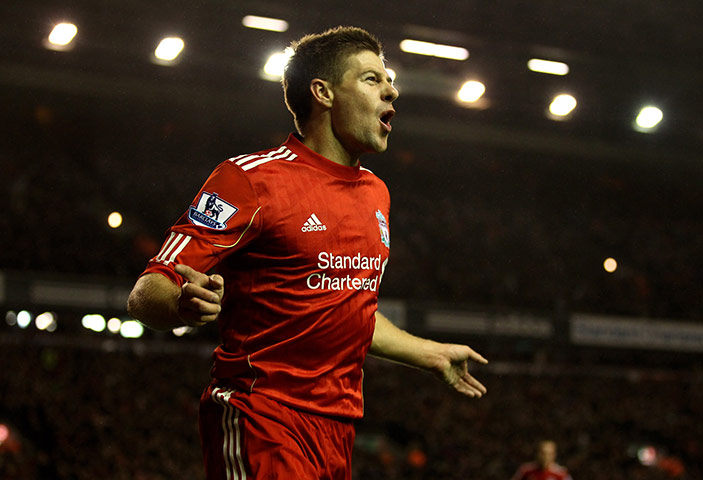 And people say he's past it!...
Liverpool put three past Newcastle United at Anfield on Friday night after finally figuring out how to convert their chances. In a game where the Reds didn't have many attempts at goal, the finishing was this time on song. Newcastle took the lead but the Reds came back to take all three points.
The start to the game had no essence of fixtures gone by between these two clubs and for a while it didn't seem like things were going to get exciting. With no real chances from either side it was hard for both sets of fans to find where their goals were going to come from.
Just before the half hour mark, Newcastle saw their chance. A whipped in ball into the box was met by Yohan Cabaye, on it's way toward goal it was clipped by Demba Ba but the prolific forward was the first to point to team mate Cabaye and support his claim for the goal.
To be fair to Liverpool this was a bit of an unlucky goal to concede, there wasn't much Reina could do with the nature of the way the ball came towards goal so the Reds could only keep their heads and carry on.
Liverpool took less than five minutes to reply to their deficit courtesy of Craig Bellamy. The Welshman has been fantastic since he resigned and he didn't half put in the effort on Friday. A lovely finish from a strong strike saw Bellers put the ball in the bottom left hand corner of goal.
Craig Bellamy i must admit is one of those players that when he's playing for another team you can't stand him but when he's in your team's shirt, he gives his all and you end up loving him. As i keep saying at the moment for me, it's all about Bellamy and Maxi on the flanks our other options aren't quite cutting it.
This sent both sides level into the second half. The game was beginning to show signs of life now, it was just a question of whether the break would shake either side. Fortunately for Liverpool it did nothing but galvanise them.
Just before the hour mark Liverpool brought on Steven Gerrard who replaced Charlie Adam. The Reds were finding themselves with quite a large portion of possession but not doing enough with it. Andy Carroll was crying out for the balls Gerrard continually pinged in and it once again felt like the captain had never been away.
A few minutes after the Gerrard substitution and it was Gerrard himself who stepped aside to give Craig Bellamy the chance to take our free kick.
Newcastle
perhaps had a case for the foul on Agger not actually being one but i think it could have gone either way quite easily.
Bellamy showed us how it's all done with a lovely free kick that the missing Luis Suarez would have been proud of. A great goal to put Liverpool ahead.
Minutes after Liverpool had finished celebrating, the lads were faced with a truly nail biting moment. Demba Ba the man of the moment got himself into a great position and had beaten Pepe Reina with his shot, but then, like a man possessed, Martin Skrtel appeared. The big defender literally threw himself at the ball to make a crucial goal line clearance and ended up taking a smack of a landing in the process. What a bloke! He was like a warrior. After the way Liverpool have been playing of late, who knows how the game would have went if Newcastle had equalised at that moment.
As Liverpool continued to attack, looking for a goal that would create that cushion to put fans minds at rest,
Craig Bellamy
had to be substituted. A suspected elbow to the face from Coloccini left the Welshman needing stitches. Dirk Kuyt replaced him.
Just over 10 minutes left and the magic finally happened. Steven Gerrard made a run into the box and after taking another touch, most fans had assumed he'd took the ball too far but at an impossible angle, the captain swept the ball underneath Tim Krul and into the back of the net.
It was a cracking goal! Anfield went mental and Gerrard's celebration ended with a high five to manager Kenny Dalglish. It was bliss!
Despite their efforts, Newcastle just couldn't come back from this. To be fair to the away side they played pretty well, the scoreline doesn't reflect their performance really it was just that on this occasion Liverpool actually took their chances. Aside from Andy Carroll, who agonisingly hit the bar!
I think the Reds can look back on 2011 as a pretty successful year and as for our start to the season, well we've done alright, in touch with those teams lurking around 4th and despite a build up of draws, we're still a tough side to beat.
Liverpool's first game of 2012 is against Manchester City, what a start to the New Year!
Have a good one folks!