Magpies Fly To Anfield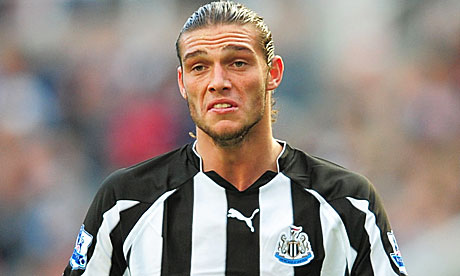 Andy, what do you think of Kuyt's new jeans? "Eh, they're alright i spose."...
Newcastle make the trip to Anfield on Friday bringing with them Demba Ba, the man who has stepped up to fill the massive boots left by Andy Carroll. Unfortunately for Liverpool it's Demba Ba who can boast the greater goal tally but with Luis Suarez serving a ban for this match will Andy Carroll take his chance to put a sock in the critics mouths?
Injury wise it's good news for Liverpool, with Gerrard featuring against Blackburn he is expected to start from the bench again on Friday. The only real missing party is Luis Suarez who as mentioned above is serving a ban.
For Newcastle they have no new injury worries and Dan Gosling is also back after completing his three match ban.
The last time the two sides met, Liverpool put 3 past
Newcastle
. Interestingly, the previous two occasions for Liverpool at home to Newcastle also ended in a 3-0 victory (I know where my money's going haha). For a Newcastle win at Anfield we have to go all the way back to 1995.
Newcastle did comfortably beat us at St James' Park or the Sports Direct Mike Ashley Is Dancing Around In A Shite Tracksuit Arena or whatever in December last year. The 3-1 scoreline shows that Newcastle could still offer some surprises.
And of course with Liverpool racking up the draws at home, this should be an exciting fixture for both clubs.
Stat Sandwich
Liverpool have failed to score more than once in their last 6 home matches.
Newcastle have not scored at Anfield since 2004.
Maxi Rodriguez has scored 11 goals in his last 12 starts for Liverpool. 9 in 9 in the Premier League.

I've been saying it a lot lately and if you've just read the bottom piece of bread in that there stat sandwich you will see why i am so supportive of Maxi Rodriguez starting games. No offence to Henderson or Stewart Downing but if it meant sacrificing them to start Maxi, i would do it every time at the moment he is our best winger in my opinion. The tough thing is though that Bellamy is an extremely close second, but it doesn't look like Dalglish likes starting both players.
With Suarez out, i can only assume it will be Carroll supported by Kuyt up front but perhaps the boss will utilise Bellamy in that position?
Either way, whoever ends up on the pitch they need to start converting their bloody chances! With Suarez out that lowers the attempts too. We need some accuracy around here!
And for those on Twitter pestering me for betting tips, will you leave me alone! I'm not soddin' John McCririck! But if you must know, if i get chance tomorrow i'm gonna slap a quid on Liverpool 3-0 with
Maxi Rodriguez
as first goalscorer, why not ay?
Enjoy the match folks!