Skrtel Scores Second In Villa Win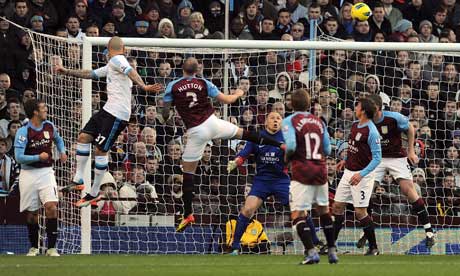 Defender beats defenders...
Liverpool scored two goals in the first fifteen minutes at Villa Park to secure a much needed three points. In the slot under the top four at the moment Liverpool are slowly but surely putting some pressure on and the win lifted them up to 6th. Craig Bellamy and Martin Skrtel were the goalscorers.
A slightly different side fielded by Dalglish saw a five man midfield and a start for Jonjo Shelvey. Maxi Rodriguez was on the bench and Luis Suarez led the line.
Aston Villa were without their main men in
Darren Bent
and Gabby Agbonlahor so from the onset it was bound to be a difficult game for Villa, a side who even with the men mentioned previously are struggling to find the back of the net.
Stewart Downing received a rather noisy reception as the home fans made sure the winger was subjected to boos each time he was on the ball. Unfortunately for the home fans though, Downing would eventually get the last laugh.
Liverpool's first goal came just 10 minutes in. A corner whipped in by Stewart Downing caused problems in the box. Luis Suarez set up Bellamy after missing his chance and the Welshman with an easy goal from close range to put the Reds in front.
I can't remember the last time we scored from a corner, perhaps it was down to some sloppy Villa defending but even so, it was great to see the lads score from the set piece.
Four minutes later and Liverpool found themselves with another corner. This time goalscorer Craig Bellamy whipped it in and despite five Aston Villa players in the vicinity, Martin Skrtel was allowed to find enough space to send home a header for Liverpool's second.
Like the first goal but arguably worse, Aston Villa were all over the shop. Without being detrimental to Martin Skrtel, he's hardly the most prolific in the box, if you're allowing him to get into so much space with such ease then you really need to be looking at your defensive set up.
Unfortunately for Villa, things didn't get better in attack either. Fair enough they were missing Bent and Agbonlahor but where was the fight? Maybe the two goals so early flustered them but they never really troubled Pepe Reina. Charles N'Zogbia was perhaps their biggest threat but not even he could find a goal for McCleish's side.
With such a lively start for Liverpool it felt like a rout could be on the cards, however things appeared to fizzle out for the Reds. The second half saw no goals but once again it was Liverpool creating the majority of the chances.
Luis Suarez saw an effort hit the crossbar but the Uruguayan was lucky to get the shot on after handling the ball without the officials seeing beforehand. Later in the second half, the number 7 had another effort hit the woodwork, a sublime chip floated over the keeper and was agonisingly close to going in.
For Liverpool it made a small difference to see us hit the woodwork
after
taking the lead instead of struggling to find a goal. It was nice to see the Reds take their chances early on so that things didn't get too tense as the clock ticked down.
Andy Carroll, Jamie Carragher and Dirk Kuyt made appearances late on for the away side but the scoreline was destined to stay the same.
From a Villa point of view i would have been very disappointed with the side. Yes, Liverpool created an early lead and a two goal cushion but it was clear during several stages in the game that Liverpool had petered out. There were chances for Villa but they didn't seem to have the drive to take them. In all honesty I'm not sure whether they would have got anything past our defence anyway because the back four have been on song but it was like McLeish's side weren't even trying.
For Liverpool this is yet another positive. Yes, the play did die down in the second half and maybe against another team that would have created problems but the key point is we've picked up another three points. For any other side it's "They may not have played well but they did the important thing and won." but what I'm hearing from a lot of Liverpool fans after a win like this is a focus on the play, i understand that obviously there are still areas of improvement for Liverpool but the lads aren't going to stop making an effort just because they've grabbed a win at Villa are they?
With
Wigan
up next in the week and Martinez's boys on a bit of a high, we need to make sure we continue to rack up the points over this Christmas period, because they could be valuable come season's end.