Gerrard Penalty Gives Liverpool Win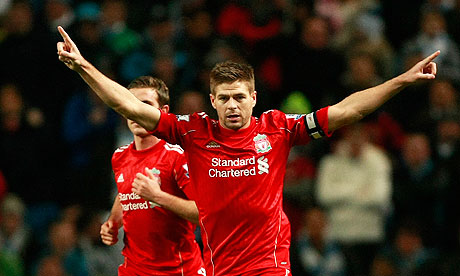 Captain Fantastic...
Liverpool were victorious in the first leg of the Carling Cup Semi Final with Manchester City last night courtesy of a Steven Gerrard penalty. Manager Kenny Dalglish used tactics to his advantage as Liverpool began to park the bus in the second half. Man City could do nothing to get an effort past the Liverpool defence let alone past Pepe Reina who was left relatively jobless throughout the 90 minutes.
Liverpool's back four was missing the influential Jose Enrique but most agreed that this was a tactical decision by Dalglish. Martin Kelly took his place.
Man City were without Vincent Kompany after he started his 4 match ban. Stefan Savic took Kompany's place in the defence. City were also without Toure and David Silva. Despite the fact that City clearly has a diminished side many critics forgot to point out that Liverpool were missing two quality players too in the likes of Luis Suarez and Lucas Leiva.
It took just over ten minutes for the most important part of the game to happen but beforehand Liverpool had already troubled goalkeeper Joe Hart with shots from Gerrard and Carroll causing fantastic saves from the City keeper.
The decision on 12 minutes from referee Mason to award a penalty was the right one in many peoples opinion so there was little to argue about from City's point of view. A high tackle from Savic on an encroaching Daniel Agger meant Gerrard had the chance to put Liverpool into the lead from the penalty spot.
Steven Gerrard with a calm head as always struck his effort to the left of goal and despite Joe Hart's best efforts, the Reds took the lead.
For the majority of the first half Man City looked a shadow of the side they have been in the league. Liverpool maintained a lot of possession and City were struggling to get hold of the ball, when they did, they were unproductive.
I must admit i wasn't expecting Liverpool to take the lead but when the Reds put themselves ahead not only did they look comfortable, they looked like they could smash a few more into the back of the net.
20 minutes in to the first half and Liverpool suffered a blow when Jay Spearing went down holding his hamstring, thankfully it doesn't appear to be as serious as first thought but Charlie Adam had to replace the young midfielder.
Things got arguably better for Liverpool at the half hour mark too when Balotelli, the man who usually causes some sort of surprise was replaced with Nasri. Balotelli had already thrown one or two hissy fits so i assume Mancini was trying to prevent the inevitable of the forward receiving a red card.
The second half was completely different to the first from Liverpool's perspective, Manchester City must have got their acts together in their half time team talk because they came out a different team. It was now Mancini's side who had the majority of possession and although Liverpool's defence was dealing with the threats well, it was beginning to become a problem.
Dalglish combated this by parking the bus. Enrique and Carragher were brought on in the second half which in the end meant a 6 man defence to ensure City were kept out. It wasn't pretty but it worked perfectly.
I don't think many expected Liverpool to walk away victorious but many thought they were capable of a draw. The tie now is perfectly poised for the Reds who face City at Anfield on 25th January.
There are a lot of people commenting on Liverpool's performance saying it was boring to watch, that we shouldn't be playing like that, parking the bus is not the way to do it, etc etc but to be honest when you look at it properly, what Dalglish did last night was tactically sound, it may not have been exciting to watch or the sexy variant of football that Manchester City have been known to play but vitally it was effective.
Next up for Liverpool is a home game against Stoke, the Potters stumped Liverpool last time so it should be an interesting fixture.