Get link

Facebook

Twitter

Pinterest

Email

Other Apps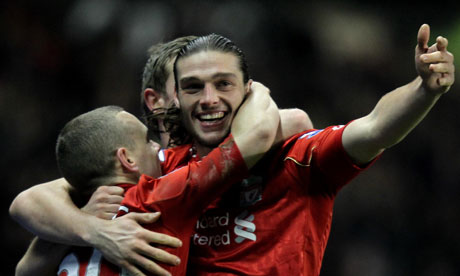 Carroll celebrates with Bellamy and Henderson...
Liverpool put three past a lacklustre Wolves side yesterday at a freezing cold Molineux. Andy Carroll got himself on the score sheet whilst Wolves struggled to find a goalscorer at all. The win moved Liverpool into 5th in the table.
Wolves had less worries than originally thought injury wise as Frimpong ended up being able to start in midfield for McCarthy's side. As for Liverpool there was one very big name missing - Steven Gerrard.
I got given the team sheet in the boardroom and must admit was happy with the line up. I was chuffed to see Bellamy starting and perhaps it's quite bad to say, but i wasn't really bothered that Downing only made the bench. He just hasn't been impressing me of late. Kuyt and Carroll up front was also a positive for me, i felt that partnership worked well against United.
I missed the first ten minutes or so of the match as i had to cash up. Wasn't all bad though as Maxi Rodriguez had to squeeze past me in the boardroom to get out to his seat, saw Comolli and Flanno too. I eventually got a seat in the Billy Wright about 15 minutes in, after asking about 5 different stewards if there were any spares.
Wolves for me had a very poor first half, but then Liverpool weren't exactly outstanding for the first 45 minutes either.
Whenever Wolves did get a chance to break, the idea 9 times out of 10 was to play the ball to Fletcher. I said in my match preview that if the Liverpool defence dealt with him then Wolves wouldn't win and thankfully the Reds dealt with him well.
Martin Skrtel was with him all night, all over the pitch and in every aerial battle. There were a few moments where the defender got a bit clumsy and it could have cost us a free kick but i thought it was a great man marking performance from Skrtel.
For Liverpool, when their chances came, they took advantage of a sloppy Wolves right hand side. Wolves defender Kevin Foley didn't have a brilliant game and Liverpool took every opportunity available to add pressure down this side of the field.
The first half saw no goals for either side and both must have felt if they could find the confidence second half, then they could change the game. Wolves had a proven goalscorer up front and so perhaps had an easier plan of action to enforce, because for Liverpool, we didn't have any real regular scorers on the pitch minus Craig Bellamy.
The Reds began to take a foothold second half though and Wolves began to fizzle out. There wasn't much of a fizzle from McCarthy's side anyway to be honest but in the second half it began to look like they weren't arsed.
Many people are calling for McCarthy's head in the Wolves fan base but the thing is, although i agree with them because to me it looks like he's taken them as far as he can, I'm not so sure what a manager could do with that side. There's a few players with great potential but then the others just don't look bothered.
Liverpool scored their first just after the 50 minute mark. A ball into the box from Charlie Adam was easily reached by Carroll who beat the Wolves defender to put the ball in the back of the net. It feels like I'm slaughtering Wolves here in this report but it was a poor goal to concede and things didn't get better for the home side.
Craig Bellamy found Liverpool a second goal less than ten minutes after. Once again, the Wolves defence just invited Bellamy in, nobody closed him down and that is never a good idea. The Welshman's strike beat Wayne Hennessey and being the cheeky chappy he is, he celebrated but ran towards the Wolves fans (Where i also happened to be sat with a Cheshire cat's grin on my face).
If it wasn't for Hennessey Wolves could have lost 5 or 6 nil. The goalkeeper made some fantastic saves, it was just a shame he was having to deal with so much pressure.
Wolves didn't look like coming back from 1 nil down let alone 2. McCarthy made some substitutions but it was too late as Liverpool scored their third with less than 15 minutes to go.
Dirk Kuyt fresh from knocking Manchester United out of the FA Cup managed to get himself into bags of space, once again the Wolves defence seemed happy to allow a red shirt to wander into the box. The Dutchman with a simple strike put the ball into the back of the net and secured Liverpool's 3 points.
The best chance Wolves had was a shot from Ebanks Blake which smashed off the post. The forward is a Liverpool fan so I'm sure he would of relished that consolation goal.
It was great to see Liverpool confidently beat a side from the lower half of the table though because without offending those teams, they are the sides the Reds have been struggling with and there was no struggle on Tuesday night. Yes maybe Wolves being poor aided our result but nevertheless it was great to see three goals from three different goalscorers.
As i mentioned, i sat in the Billy Wright, it's usually pretty ok because a lot of families sit in that section so i just tend to keep myself to myself and not make too much noise haha. I clenched my fists, clapped and smiled when Carroll, Bellamy and Kuyt scored but that was about it.
I had mutters behind me from blokes telling other blokes that i was singing "Fields Of Anfield Road" and i also had four young kids notice my Liverpool badge and gloves with about five minutes of time left, they gave me some right evils! Haha.
The highlight for me though was the Kuyt goal because as soon as the ball hit the back of the net, stacks of Wolves fans around me just got up and left. There were ten minutes left and i just couldn't believe what i was seeing, they complain about their manager and team but they don't see fit to attempt to cheer their side on? It just baffles me, always has done. If you buy a ticket, you stay till the end.
I just laughed, i did a 360 degrees scan around the stadium as i saw more and more fans leaving and just sat there smirking to myself.
Other than the freezing cold weather it was a great match to watch though, as you all know, i rarely get to see the lads play so it was brilliant to see three goals!
Next up for Liverpool is Tottenham at Anfield.
Get link

Facebook

Twitter

Pinterest

Email

Other Apps