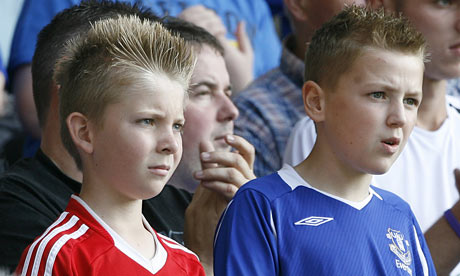 LFC Lad: That Fellani's an idiot... and people think my hairdo's bad?!
The Merseyside Derby? On a Tuesday night? Yes please. The Red and Blue side of Liverpool both line up on Tuesday evening after the fixture had to be moved due to the Carling Cup. Liverpool are having a dismal time in the league at the moment whilst Everton as usual have revived their second half of the season.
Liverpool still have a minor doubt hanging over the fitness of Glen Johnson and Everton's only real worry is over Darren Gibson.
A poor performance from Liverpool against Sunderland on Saturday has left many worrying at the prospect of losing 4 games in a row in the Premier League. It's blatantly obvious that the lads need to buck their ideas up for this one and perhaps Kenny may want to rethink his starting line up as he gets ready to face Moyes' boys.
Everton don't need spurring on for this one and have collected some superb results recently in the league pushing aside the likes of Tottenham, Chelsea and Man City but for Liverpool the key thing to remember here is these wins were all at Goodison Park.
We have to go back to 1999 for a win for Everton at Anfield in the league and so the advantage of Liverpool being at home will hopefully aid the faltering Reds.
With Gerrard getting some game time against Sunderland at the weekend i think it's vital that both he and Carragher start in this one. The team at the moment need a kick up the backside and those two men are the best to provide it in a game such as this.
Stat Sandwich
Gerrard will make his 400th top flight appearance if he plays on Tuesday night.
The last time Everton scored more than 2 goals at Anfield was in 1964.
If Jamie Carragher plays it will be his 28th Merseyside Debry in all competitions.
There's no hiding from the fact that Liverpool have been very poor of late but you can't help but think this is the sort of game that will force us to rethink our ideas. Against Arsenal and Manchester United the Reds put in top performances but as always couldn't seem to find those goals.
Here's hoping things change on Tuesday night because it will be unbearable if Liverpool lose. Not forgetting the fact that Everton could leap frog us should this happen.
Enjoy the match folks!