Get link

Facebook

Twitter

Pinterest

Email

Other Apps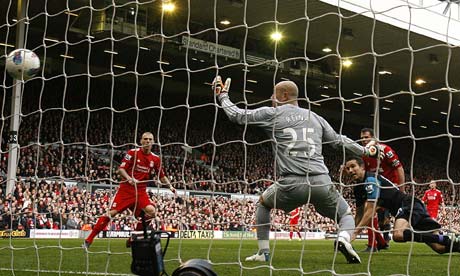 Reina is beaten by van Persie...
Liverpool fell to defeat at the hands of Arsenal on Saturday as the van Persie show turned up at Anfield. The Reds were arguably the better of the two sides but whilst Wenger's boys converted their chances, Liverpool didn't. Even a penalty couldn't aid Liverpool's score sheet and it fell to an Arsenal player to get the Reds their sole goal.
Dalglish made some changes to the side which was expected after the injuries to Gerrard and Agger. Spearing was drafted in to midfield and Carragher was in the back four. Suarez was fielded up front and Martin Kelly replaced Glen Johnson.
Arsenal despite their doubts over the fitness of van Persie, Vermaelen and Rosicky ended up starting all three players.
The early drama fell in Liverpool's favour when referee Halsey gave a free kick for a challenge on Luis Suarez. Szczesny came out to close down Suarez and in the first instant it didn't to me actually look like a penalty, it looked like Suarez had just over reacted. However on the replays the zoom showed a clash of shins but i still think Halsey went on Suarez's reaction and not what he saw, but anyway, Liverpool had a spot kick.
Charlie Adam picked up the ball immediately but thankfully Dirk Kuyt took it off him. The Dutchman is one man i would always pick for a penalty and just like Gerrard it feels we're able to rely on him. Unfortunately for Kuyt though, Szczesney saved his effort and then brilliantly managed to get back to his feet to save Kuyt's shot from the rebound.
Just four minutes after this though, Liverpool were gifted a goal. A cross into the box from Jordan Henderson was met by Koscielny who turned the ball past Szczesney. Liverpool had been lucky but in the balance of play they deserved the lead.
On the half hour mark, Arsenal managed to find themselves an equaliser. A great ball in from Sagna was met by the head of Robin van Persie who was on the wrong side of a struggling Jamie Carragher.
With Arsenal now level it was clear anything could happen. Liverpool aren't exactly scoring for fun in the league and so it was always going to be difficult to find a winner.
A worrying incident just at the start of the second half saw Mikel Arteta stretchered off. The former Everton man was in an accidental clash with Jordan Henderson and was unconscious for some time. Diaby replaced him.
For the majority of the second half Liverpool once again had a hold on the game. Arsenal didn't have much of the ball and only really troubled Reina once. Liverpool however were creating attacks but they just weren't precise enough. A good example was the lovely cross put in by Kuyt to Martin Kelly who after a miss-kick had to watch the ball go wide.
Luis Suarez had a lively game but he couldn't find the back of the net either. The Uruguayan showed superb skill when taking on three Arsenal players in the box but he agonisingly couldn't quite get his curled shot in.
Dalglish brought on Craig Bellamy with minutes to go but to be honest this should have been done sooner. The Welshman didn't get chance to help his side and shortly after he came on van Persie popped up and shattered any hopes of a Liverpool winner.
A cross from Alex Song was met first time by van Persie who with a sublime volley put the ball straight past Pepe Reina. It was so quick the Spaniard barely had time to react.
It's annoying because you can't really moan at those sort of goals, it was just sheer quality. Liverpool certainly were the better team but in van Persie Arsenal have the solution that we are currently still trying to find. Give that man half a chance and he will score whereas our front men seem to need 10 or 12.
10 points off 4th spot and although it's still numerically possible i think we have to face facts because we're not going to be in the Champions League next year and that really is gutting.
Up next for Liverpool is Sunderland and then the rearranged Merseyside derby!
Get link

Facebook

Twitter

Pinterest

Email

Other Apps