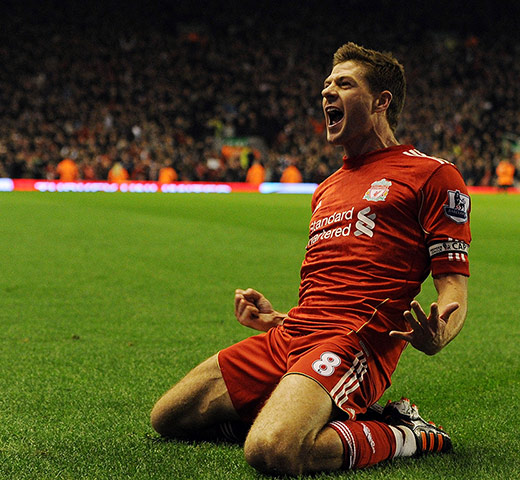 The captain celebrates...
A much improved performance from Liverpool after their defeat at the hands of Sunderland on the weekend saw the Reds put 3 past David Moyes' Everton side. His team had been going strong but he couldn't get them to pull a performance out of the bag for his 10th anniversary at the club.
Dalglish made some changes to the side, predominantly the dropping of an ineffective Charlie Adam. The midfielder has had a few off games recently and it was nice to see Kenny had saw exactly what the fans did. Spearing took his place in centre midfield alongside Gerrard.
Liverpool made a lively start to the game with the likes of Suarez, Gerrard and even Martin Kelly causing problems in the box. Some frustrating calls for offside sometimes stopped the flow of things but the Reds quickly got back into a rhythm.
Liverpool's first goal came just after the half hour mark. With all the pressure on Tim Howard and none really on Pepe Reina, it was nice to see Liverpool convert a chance whilst they were creating so many, it's been the total opposite of late.
Steven Gerrard saw his chance after the ball splayed back out from Tim Howard. Suarez and Kelly were involved in the build up but it fell to the captain to place a lovely curling effort over and in to the back of the net. A fantastic goal.
Everton attempted to get back into the game before half time but it was only a chance saved by Reina from Stracqualursi that gave them an opportunity.
Just five minutes in to the second half and Steven Gerrard was at it again. After some determination and skill from Luis Suarez, the Uruguayan found himself deep in the box, when spotting an encroaching Steven Gerrard, Suarez left the chance to the number 8 who smashed Liverpool 2-0 up with a firm strike.
1-0 is always a tough score to be sitting on and none more so than in the Merseyside derby and so a second goal so early into the second half was greatly received by the Anfield faithful.
There were some fantastic performances on Tuesday night but i think it's worth picking out Martin Kelly and Jay Spearing. Spearing just never gave up and terrorised Everton whenever they had possession. Kelly was not only composed in defence but superb when pushing forward, he also nearly came close to scoring, thrice. A top performance.
Everton just after the hour mark had realised that plan A wasn't working and so plan B was to bring on 3 substitutes at the same time. Drenthe, Osman and Jelavic all entered the fray.
Liverpool followed suit with the substitutions 10 minutes after when Jordan Henderson was replaced with Dirk Kuyt.
Everton's substitutions didn't quite have the right effect on the game and the main aspect of their introduction ended up seeing a frustrated Drenthe cautioned. It just wasn't happening for Everton on Tuesday night. There was no spark. Leighton Baines even spoiled his performance by being petty towards the end of the game in incidents with Luis Suarez.
To top things off perfectly for Liverpool, Steven Gerrard in his 400th Premier League appearance got himself a hat trick. Well, i say himself, to be honest, Luis Suarez had quite a lot to do with it again.
Gerrard stole possession in midfield and then played a ball through to Suarez in the box. The forward wasn't selfish however and kept control until Gerrard had pushed forward into a wide open position, the Uruguayan then easily set up the captain who confidently put his third past Howard.
A brilliant performance from Liverpool, one that couldn't be more different from the 90 minutes at the weekend. As Gerrard said himself post match, we need to find some consistency and if we can put a few more goals in the back of the net then that's half the battle.
Next up for Liverpool is Stoke in the FA Cup!