Can Carroll Score Again?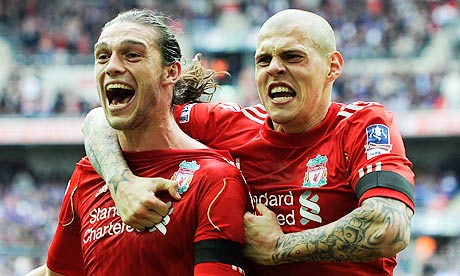 Carroll celebrates his FA Cup winning goal with Skrtel...
Liverpool will welcome West Brom to Anfield on Sunday after they've got rid of those giant puppets wondering around the Kop End! And West Brom coming to Anfield means nothing less than the return of the face rubber himself; Roy Hodgson.
The first piece of team news for Liverpool has been eagerly anticipated... That's right, Reina is back. Despite a great performance from Brad in the FA Cup I think everyone has missed the security of Pepe Reina and thank god he's returned. Other than the long term injuries within the squad, Dalglish doesn't really have anything to worry about and can select a side from a pretty in shape squad.
West Brom have doubts hanging over the fitness of Fortune because he's suffering from a hamstring problem but Olsson is expected to return for the Baggies.
The last time the two sides met was in October when Liverpool were victorious scoring two goals without a return from West Brom. Andy Carroll was on the scoresheet that day. Most fans will also remember though that in the game before this Liverpool fell to an embarrassing defeat at the hand of Hodgson's side.
Stat Sandwich
If Liverpool win it will be there first run of three wins in the league for 2012.
West Brom have only gained 1 point from their last 4 away games.
Liverpool haven't lost in their last 10 matches with Andy Carroll starting.
I can't be the only Liverpool fan who at the moment has all but given up with the league? With the only incentive left to finish above Everton it's hard to get into it really, especially when you think of the prospect of Everton fans boasting about "finishing above Liverpool in 2012", what a plaque for their wall that'll be!
Nevertheless, it's always nice to win. As the last piece of bread in the stat sandwich says, Carroll's last ten matches have seen Liverpool be more successful than they are without him. For me, he should start with Suarez, the more time these two get together the better they will be.
I'd like to see Bellamy and Maxi too because I just think they add interesting attacking options and Maxi always seems to be in the right place at the right time.
With Reina back and the lads hopefully in good spirits with Wembley awaiting around the corner I'd like to think Liverpool will win this one. My punt for Sunday is a 1-0 Liverpool win.
Enjoy the match folks!