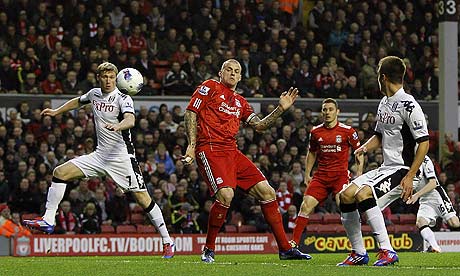 Unlucky Skrtel...
Fulham won at Anfield on Tuesday night for the first time ever. That's right, they've never won at Anfield and that in a nutshell seems to sum up Liverpool's league form this season, especially at home. Things were made worse because it was a Martin Skrtel own goal that won it for Fulham.
9 changes to the line up were bound to create some sort of havoc but it was hoped a positive could be created from this... It wasn't.
Fulham put themselves on the score sheet just five minutes in after creating some pressure in the box. Unfortunately for Martin Skrtel he was the one who ended up gifting the Cottagers their lead.
The sad thing was, other than this involvement from the Liverpool defence, not much else happened. It was unbelievably dire. Considering this was a chance for the players to prove they should start on Saturday, they didn't seem to care.
Ex Liverpool men Riise and Murphy got a great reception from the Anfield crowd and Riise had a couple of chances in front of goal for Fulham but couldn't quite find them a second.
Doni between the sticks for the Reds had a couple of slip ups but also pulled off some great saves in a game which consisted of more attacks from the away side.
Andy Carroll was perhaps one of the only players in a Liverpool shirt on Tuesday putting in the effort and showing that he wanted to be chosen for the FA Cup final. He made sure he kept play alive in the box and got on the end of a couple of crosses but again, Liverpool just couldn't find the net.
Jose Enrique and Raheem Stirling were brought on in the second half and for the short time Sterling was on the pitch, he certainly looked lively. He's got some pace and confidence behind him and I'm very excited by this lad, I hope to see a lot more of him in the future.
Despite some offensive runs into the box Raheem couldn't quite clinch an equaliser for Liverpool and the Reds were left thinking over their last 90 minutes as the final whistle blew.
Dalglish was clearly disappointed with the sides efforts post match and rightly so, of course the line up may have caused problems with certain players gelling with one another but for me that still isn't an excuse for the lack of effort.
Here's hoping the team Dalglish picks on Saturday put in a better shift because we're going to need it! But at least it's an away fixture I suppose!