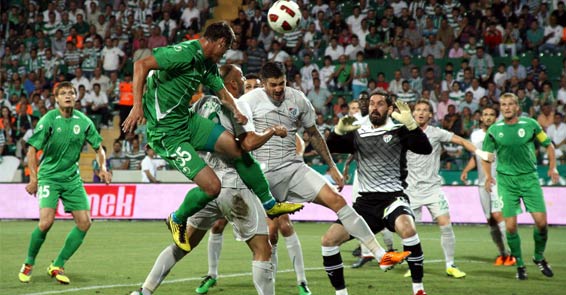 Gomel in action...


Image:

Link
Liverpool have made the trip to Belarus for their first competitive match of the season as they look to take advantage in the first leg of their Europa League tie with FC Gomel. The Reds were not in Europe last season and missed out on a Champions League place but manager Brendan Rodgers will look to take his side through this years Europa League.
FC Gomel finished 3rd in their league last year and play their home games at Central Stadion which has a crowd capacity of just over 14,000. Interestingly Fabio Borini has revealed this week on the
club website
that he and his family used to do some charity work for children from Gomel. Gomel was one of many areas affected by the Chernobyl disaster.
The majority of Gomel's squad are from Belarus but they also have some Russian forwards. Gomel have actually introduced a fair few players for the 2012/2013 season just to add to the unknown.
Brendan Rodgers has a full squad to choose from but Andy Carroll apparently hasn't travelled with the team after his loan move/signing with West Ham is still being settled.
It's no secret that Liverpool in Europe are almost an immovable force but in these early stages of the Europa League sides can sometimes be dealt with a real shock.
For Liverpool fans watching, this is also our first real chance to see what Brendan's plans are, with only one new signing he will be sure to start that man Borini but similarly to the friendlies in North America he may well choose to play around with the tactics and take full advantage of his substitutes out in Belarus.
It would be nice for the Reds to get off to a winning start and on paper that's what it should be but I can see this being a score draw, Liverpool always seem to get off to a nervy start and hopefully this can get itself out of the way in this first Europa League tie before the real start of the season.
Fun Fact
- DYK? FC Gomel have changed their name 6 times in 36 years.