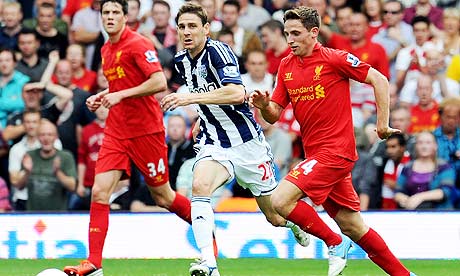 Gera tries to break through the Liverpool midfield...


Image:

guardian.co.uk
It was a poor start for Brendan Rodgers on Saturday as his Liverpool side fell to a 3-0 defeat at the hands of Steve Clarke's West Brom. A contrasting first half for the Reds made it look like a victory was possible even when Gera netted a peach but in the second half things went from bad to worse after Daniel Agger was given his marching orders.
Brendan started a very good side including both new signings; Borini and Allen. Gerrard was slotted in behind Suarez and Borini but this wasn't a set formation with Suarez and Borini often interchanging or dropping back on some occasions. Kelly was in for Enrique who apparently has a small injury.
It was a confident first half for Liverpool and although it was clear this was a side coming to terms with a completely new set up, it still looked promising. Joe Allen certainly did his job and more and he seemed to have no problem getting to work in the Liverpool midfield. Luis Suarez was easily the most lively though but unfortunately for the Reds he didn't really seem to be at the races. A shot sent wide and a missed header proved that this wasn't going to be the Uruguayan's day but as always he never gave up.
The Reds had the wind taken out of their sails a bit in the dying minutes of the first half after a fantastic goal by Zoltan Gera. The defence perhaps tried to late to close him down but there wasn't much you could have done with that strike, goal of the month contender for sure.
No changes were made from either side for the second half and understandably so, both sides were going pretty well really. Liverpool would soon be forced into a change though after Phil Dowd's decision to award a penalty.
For me, it was very harsh and so too was the second penalty. There was contact from Agger but Long made an absolute meal of it luckily his resulting penalty was a poor one and Reina confidently made the save.
The following penalty was also harsh in my opinion because Skrtel wasn't even aware of it as far as I could tell. Very unlucky to concede a second soft penalty so quickly too. This time Odemwingie stepped up and he made sure that he put his side 2-0 up.
Jamie Carragher was now brought on to fill the hole left by Daniel Agger and of course with the side now down to 10 men things became difficult. As mentioned, the side are already one in transition and learning the boss's new tactical set up so it's not really surprising that the sending off shook us more that it perhaps should of.
Joe Cole came on for the Reds just before the 70 minute mark replacing Lucas Leiva, he got a bit of stick yesterday but we must remember he's still gaining fitness. I personally am so glad to see him back.
Lukaku put the nail in the coffin for Liverpool with a headed goal soon after our substitution after he was given too much space.
Andy Carroll got his chance to come on and find Liverpool a goal late on in the game but only because Joe Cole had picked up an injury, subbing the sub, just brilliant. Joe Cole is made of glass, very expensive glass too.
For Liverpool this is certainly a match to completely write off and forget about and as I said on Twitter yesterday the result is not acceptable. I don't understand why people are trying to hide from that, this season or last, first game or in the middle of the season and new manager or not, that result was dreadful.
This doesn't mean that this is a sign of things to come though and as I also said, Brendan Rodgers' revamp of the side was never going to happen over night and so lets hope we can correct things before the City game because anything in that fixture is a bonus really.
All in all it was a terrible start for the Reds but I suppose it is best to get this sort of thing out of the way early on, I can't see this being a reoccurring incident but one thing I do know is that we need to find out how to find the back of the net and fast.