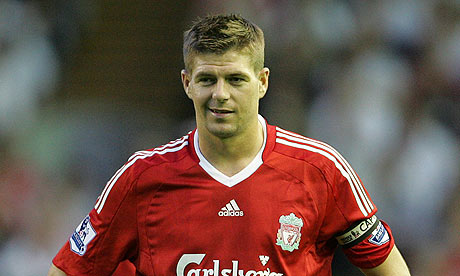 Good old Stevie...


Image:

guardian.co.uk
Newcastle are the visitors to Anfield on Sunday as Liverpool look to scrub away the memory of their Swansea defeat. Liverpool are unbeaten in 4 in the league but their performances have sometimes been questionable.
The Reds still have doubts hanging over Pepe Reina and Glen Johnson who both still haven't fully recovered from hamstring problems whilst Newcastle are without midfielder Tiote.
The last time the two sides met was on April Fool's Day and I remember being particularly annoyed after poor performance from Liverpool and a rather stroppy Andy Carroll.
To find the last time the Magpies managed to notch up a win at Anfield though we have to go all the way back to November 1995.
Stat Sandwich
If the Reds win, it will be their first 2 wins on the trot at Anfield in over a year.
Newcastle haven't won away in their last 8 attempts.
Liverpool have conceded 14 goals, a Reds record for this stage of the season.
Newcastle may have a dodgy away record so far this season but they're most certainly a side I fear. Demba Ba and Papiss Cisse offer a combination that we could only dream of. Whilst I feel the defence should be able to deal with the threats posed by the Magpies I again find myself worrying about Liverpool's goalscoring.
We could quite easily take control of the game here at Anfield but as time ticks by and the back of the net hasn't been found, it will be Newcastle who will pounce at the chance to upset us. Nevertheless I am hoping for a Liverpool win on my birthday! So assuming I will provide a lucky charm I will go for a 2-1 to Liverpool.
Enjoy the match folks!