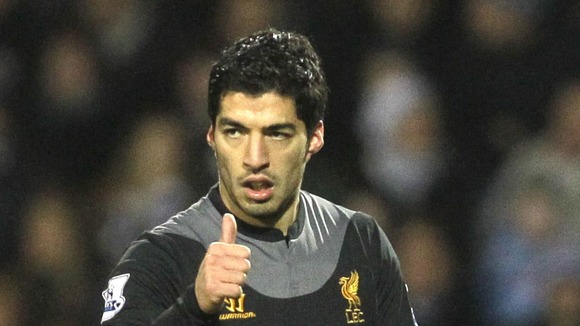 Another top performance from Suarez...


Image:

itv.com
Liverpool bagged themselves all three points in a confident win at Loftus Road on Sunday. Manager Brendan Rodgers was absent through illness but it didn't matter because the Reds had all bases covered and thanks to Luis Suarez and Daniel Agger they found the back of the net thrice.
It didn't take Liverpool long to get off the mark after a lively start. Luis Suarez with another one of his famous attacks in the box put the Reds ahead after taking on the QPR defence and finishing confidently. The early goal was a blessing for Liverpool but they needed to ensure they used it to their advantage and didn't lose their lead so quickly as they did against Stoke.
Luckily for Liverpool, Luis Suarez was in one of his moods and when the Uruguayan is on form, the Reds are very dangerous. This time Suarez came into the box from an angle, his attempt at a cross was deflected back to him and he smashed the ball home high into the goal.
We knew QPR hadn't been playing the best football this season but I personally wasn't expecting us to take the lead and then also find a second so quickly. QPR really did look out of ideas already and thankfully it didn't look as though Liverpool being minus a manager was going to matter.
Just before the half hour mark and Liverpool were at it again. This time a short corner from Stewart Downing was crossed in by Steven Gerrard. Daniel Agger timed his jump perfectly and headed home Liverpool's third.
From here it looked as though there was certainly no way back for QPR and Liverpool continued to apply pressure throughout the remainder of the first half.
For the second half Harry Redknapp decided to take off Cisse and bring on Derry. QPR were getting played off the park in midfield and so this was perhaps an attempt to ease that problem, however they'd also now taken a goalscorer off.
Liverpool didn't have as many chances in the second half as they did in the first but they still clearly had hold of the game. Just after the hour mark Lucas Leiva replaced Jordan Henderson who had a decent game to be fair. Enrique also had to leave the field 10 minutes later with a hamstring problem, this was such a shame to see. Suso replaced him.
The second half provided no more goals for Liverpool but better still QPR didn't find any either. A clean sheet and three goals for Liverpool is fantastic, I just hope that we can now use this as a springboard. No offence to QPR but we know they were pretty poor and hence this aided our performance but the Reds can still take this as a positive moving forward. Next up for Liverpool is Sunderland.