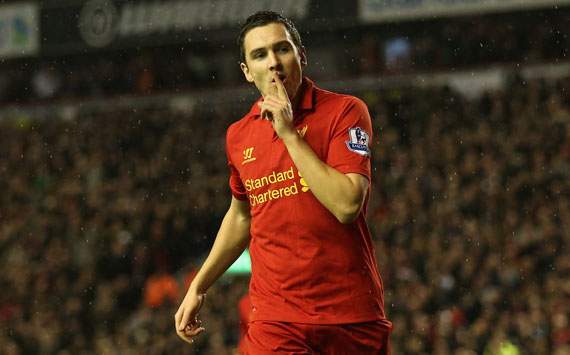 Silencing his critics? ...


Image:

goal.com
Liverpool notched up a very successful 4-0 win at Anfield on Saturday as they brushed aside Martin Jol's Fulham team. It was a far cry from the Villa game and Liverpool found their goals from four different scorers, a perfect way to start off the festive season.
Liverpool started with Suso and Shelvey for this one with many wondering why Sterling had been dropped and some calling for the improved Henderson to start instead. I personally was happy with this line up, Suso is somebody who I felt should have featured in the Villa game. He's a bit of a rough diamond at the moment but he adds an angle that the opposition aren't expecting.
Fulham haven't been playing their best football of late and so it was a good time for the Reds to face them as they had the chance to move into 8th place. It didn't take Liverpool long at all to cement their intentions with unlikely goalscorer Martin Skrtel getting things well and truly under way.
A corner from Steven Gerrard fell to Martin who steadied himself and smashed home Liverpool's first goal with a lovely finish. It had an essence of the old Sami Hyypia and the defender was visibly delighted. It was a great start for Liverpool who often struggle to score early on.
Liverpool's next goal came just after the 30 minute mark. Captain Steven Gerrard was allowed into much more forward positions for the majority of the 90 minutes against Fulham and he capitalised on his chance when set up by Stewart Downing. Another lovely finish saw Gerrard's strike find the bottom left corner of goal.
Stewart Downing who I must admit I am not a big fan of had a superb game, it definitely seems that after being told he can leave he's really tried to buck his ideas up and his game on Saturday had remnants of his days at Aston Villa. He was supplying several balls into the box and also having a pop at goal himself eventually finding the back of the net later in the game.
By half time it was easy to notice that Fulham were struggling and lacking in attack. With no real trouble at all for Pepe Reina Liverpool were left to pretty much do as they pleased and Jol's defence weren't putting up much of a fight either.
The second half saw Fulham introduce Rodallega who would later provide the away side with their best chance of the game from a free kick.
Five minutes into the second half though and Liverpool applied some more damage. This time a ball collected by Stewart Downing on the right wing saw him take it all the way into the box and with a confident strike find Liverpool's third.
For Fulham there appeared to be no way back now whilst Liverpol still looked as though they had something left in the tank. Substitutions saw the introduction of Sterling, Allen and Carragher but it was mainstay Luis Suarez who would find the final goal of the day for the Reds.
Set up perfectly by an encroaching Jose Enrique, Suarez was left with the easy task of turning the ball into the back of the net and sealing Liverpool's 3 points.
It was an almost perfect game for Liverpool and very frustrating for me because I find myself asking why we had to be so poor when I made the very rare trip to Anfield against Villa. If we can continue playing like that then I'd be extremely pleased, the passing was more purposeful, the chances were regular and most importantly the conversion rate was high.
Next up for Liverpool is Stoke.