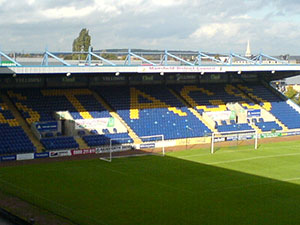 The home for Sunday's clash...


Image:

merciatouristboard.org.uk
The Reds are off to the East Midlands on Sunday as they prepare to face their conference opposition; Mansfield Town in the FA Cup. After a run that saw them go all the way to the final last year, it's certainly a competition Liverpool want to stamp their mark on and they have a real chance to progress here at Field Mill.
Injuries for Liverpool mean they are without Jose Enrique. I was gutted to hear that he'll be out for up to 6 weeks after his hamstring pull. Reds fans will also eagerly await to see whether Sturridge will get his first game in a Liverpool shirt. Mansfield from what I can find have no new injury worries and they also have a boost with Jake Speight and Richie Sutton being available.
The two sides have met only twice before back in 1970 for the League Cup. Mansfield managed to hold on to a 0-0 draw at home but the tie at Anfield saw the game end 3-2 to Liverpool.
Mansfield are currently placed 9th in the Conference but have played fewer fixtures than most of the sides above them, with 35 points they're still very much in with a chance of promotion via the playoffs. Liverpool on the other hand couldn't be much further away from the Nottinghamshire side, sitting 8th in the Premier League.
For fans of a conference side awaiting a club like Liverpool at your door there's bound to be excitement and I never mentioned in the blog post after the Villa game the chap who had travelled to Anfield... He worked in some sort of capacity for Mansfield, was on the 17 bus standing up near the front close to me and my fella and he kept mentioning that he'd come to suss us out before we went to "the best side in the Midlands" haha. I'd be surprised if that bloke sees this but if you do, give us a shout! #Banter
Stat Sandwich
The last time a non-league side knocked out Liverpool was in 1959 when we were beaten by Worcester.
Mansfield are 93 league places below Liverpool.
The last time Liverpool faced a non-league side in the FA Cup was in 2008 - Havant & Waterlooville
With the game on ESPN (which I don't bloody have) I think I might try to go out to watch this one though I'm supposed to be revising like a nutjob... This match has the build up and essence of that "magic" everybody talks about though and I'd also love to have a proper look at Sturridge if he gets his first game. I get the feeling there'll be goals and will punt for a 3-1 for Liverpool here.
Enjoy the match folks!