Get link

Facebook

Twitter

Pinterest

Email

Other Apps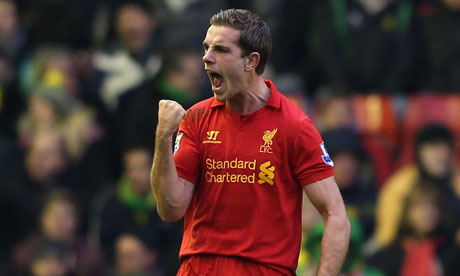 Henderson was over the moon with his goal...


Image:

guardian.co.uk
Liverpool put 4 past Norwich and accepted a gifted own goal to finish their 5-0 rout at Anfield on Saturday as the doubters of the Sturridge and Suarez partnership were hushed once again. In a game where Steven Gerrard found the back of the net and Jordan Henderson too it was a brilliant performance from the Reds who look to be finding their feet.
Liverpool were without Pepe Reina and Martin Skrtel for this one and so Brad Jones was between the sticks with Jamie Carragher brought back into the defence. Norwich were thankful to be able to start their main man Grant Holt up front as they would need the extra fire power.
Immediately for Liverpool it was clear that Sturridge and Suarez (despite the small amount of time they've been working together) had an awareness about them. Sturridge knew exactly where Suarez was and Suarez knew exactly where Sturridge was, to be playing that freely already and feeling confident in your partner is fantastic and it wasn't long until Suarez was causing problems for the Norwich defence.
Weaving in and out and closing in from tight angles as he always does, Suarez was causing havoc in the run up to Liverpool's first goal. Eventually the ball found it's way to Jordan Henderson, most who praise Henderson will still admit that he's very much a confidence player and so to see him "have a pop" with the way the ball fell to him was fantastic. Hitting it first time it was a cracking finish that flew straight into the back of the net and gave Liverpool the lead. Henderson celebrated emphatically, you could see what it meant to him.
Ten minutes later and that man Suarez was making sure everybody was talking about him again. On a break he took the ball all the way to the keeper and with typical flair, provided a classy finish to give Liverpool their second. Lucas set him up after Sturridge allowed the ball to run through his legs, knowing that the Uruguayan striker was free.
Things were going almost too well for Liverpool, you have to take into account the opposition and the fact it was at Anfield of course but we were running like a smoothly oiled machine, even with big changes to our usual line up.
Norwich were creating chances here and there and sprung Brad Jones into action very early on but the Reds had too much of a hold on the game now, it had the feel of a goal fest and it certainly turned into one.
No substitutions were made from either side for the second half. Norwich needed a spark to be honest but Hughton wasn't ready to change things yet. He'd perhaps left it too late though as Daniel Sturridge scored close to the hour mark.
It's 3 in 3 for the ex Chelsea man and once again he was in exactly the right place at exactly the right time, it's such a simple goal but as I've mentioned before, Downing plays that lovely cross in any other game pre - Sturridge and it's simply not scored, because no one is bloody there in the box waiting! A tap in suits me just fine.
It's a late one but my New Year's resolution is definitely to learn Sturridge's celebratory dance...
Hughton made a sub five minutes after this goal bringing on Hoolahan for Bennett who ended up having a less than favoured impact on the game. Norwich are in a bit of a rut at the moment after a good start to the season and they may have fancied their chances of getting something against us after their draw last time out at Anfield but it just wasn't to be.
Immediately after the substitution Steven Gerrard decided he'd quite like to get in on the action and with a goal that showed remnants of his glory days, his long range shot beat the keeper to the left bottom corner of the goal.
Raheem Sterling and Fabio Borini were brought into play shortly after the Gerrard goal and it makes you realise that we do have some decent options at the moment, people who can add a different element to a game.
Just to rub salt in the wounds for Norwich, Raheem Sterling created the problem that caused their man to turn the ball into the back of his own net at 75minutes. It was unfortunate for Ryan Bennett but some good work by Sterling meant his cross would have probably been met by Fabio Borini anyway even if Bennett didn't get in the way.
It was a brilliant performance from Liverpool, a real rout and to keep a clean sheet too is just fantastic. I'd never have guessed a 5-0 scoreline pre-match. It must be a hard one to take for Norwich who didn't actually play all that bad but for a change Liverpool were not wasting their chances and made nearly every one count. If we can take that kind of attitude and performance to Arsenal next in the league then we may well be on to something but before that we have to face Oldham in the FA Cup.
Get link

Facebook

Twitter

Pinterest

Email

Other Apps