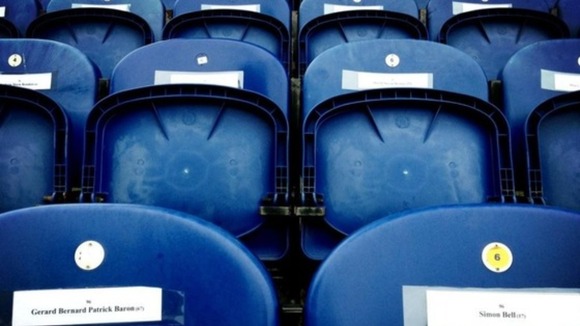 A very touching tribute to the 96 from Mansfield Town...


Image:

itv.com
Liverpool are through to the next round of the FA Cup after beating Mansifeld Town 2-1 on Sunday. Some controversy arose about the manner in which the Reds scored their second goal but Mansfield failed to make their chances late on in the game despite finding a consolation.
Brendan Rodgers made several changes for this fixture and he also gave Daniel Sturridge his first Liverpool start whilst Luis Suarez had to settle for the bench.
The Reds didn't take long to get themselves off the mark at Mansfield and I quickly began to regret not popping some money on Sturridge for first goalscorer before we got to the pub...
The ex Chelsea man immediately stamped his authority on the side after a timed pass from Jonjo Shelvey the forward confidently finished without any hesitation and put Liverpool 1-0 up. I've felt a bit like the black sheep lately on Twitter in terms of opinions on Sturridge because I personally was pretty pleased with the signing, albeit a bit more expensive than I'd of hoped. I'm not over the moon about it but I'm genuinely pretty happy, most people however seem to be very sceptical but here's hoping Sturridge can prove the doubters wrong.
For the remainder of the first half Liverpool may not have been able to find the net again but the match was still very much in their control, the real swing came after the sides came back out for the second half.
The Reds had control first half but it was clear the candles were dimming, Mansfield must have had an enthralling team talk at half time, the kind you only see in the magic of the FA Cup. They certainly came out all guns blazing and confident in the second half, almost as confident as their CEO who made sure she appeared in every camera angle possible.
Shots were coming in left, right and centre for Mansfield with the likes of Howell, Green and Briscoe really stealing the show. Liverpool looked vulnerable now and Mansfield were craving that goal.
Noticing this Rodgers decided to make two subs just before the hour mark with both Luis Suarez and Jordan Henderson coming on. Suso and Sturridge left the field.
He'd barely been on the pitch five minutes and Luis Suarez was at the centre of attention once again. I'm not one to beat around the bush as you know so here goes... It was handball, I know it, you know it, Mansfield know it (apparently the officials don't) but there's no hiding from it, it was hand ball, what's Suarez supposed to do though? Own up? Pah. This theory is just ridiculous, as I mentioned on Twitter early today what happened when Robbie Fowler owned up to that "none penalty" ... ? They still give him the soddin penalty. It's ridiculous to think it's Suarez's job to own up to a poor decision, never going to happen. People need to grow up and move on.
After glancing at some of the media portrayals of Suarez today it's only cemented my view that the majority are treating him as a pantomime villain. Simply out to create a vendetta against the man at every possible opportunity, it's quite frankly pathetic and I can't wait until Suarez gets his name plastered over the papers again after the United game. It really must be exhausting being so jealous and full of hate.
I can totally understand Mansfield's frustration because in fairness there were some other "handball" moments within the game that appeared to go ignored, on another day the game may have been 1-1 before the Reds found a second but you still can't say whether that would have been enough facing a Liverpool side with Luis Suarez up front, if his hand didn't find the back of the net his foot eventually would have... There's a quote for ya!
The home side put up a valiant fight as the second half continued and eventually their hard work paid off. Matt Green found his side a goal from inside the area and sent the home fans mental. With 10 minutes still left to go there was still some hope for the stags but they weren't quite able to find there way to an Anfield replay and Liverpool walked away victorious.
Next up for Liverpool is only Manchester bloody United. And just in case you didn't know, guess who the ref is? ... Howard Webb. Should be in for some fun here!