Get link

Facebook

Twitter

Pinterest

Email

Other Apps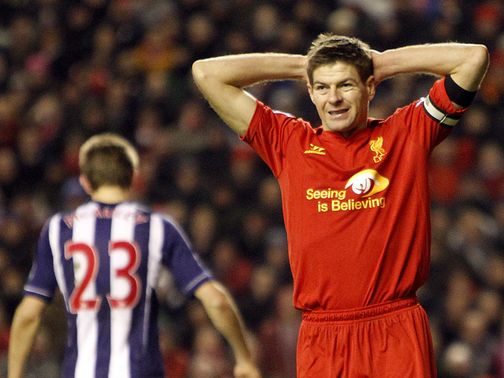 The expression says it all...


Image:

sportinglife.com
Liverpool were the victims of a real smash and grab at Anfield on Monday evening as they struggled to accept a late West Brom win after creating almost all of the chances themselves. Liverpool troubled Foster throughout the game but after Steven Gerrard missed a penalty it was clear something special would be needed to take the lead. The Baggies didn't even have a shot until 80 minutes but they made it count, scoring and then finding the net again 10 minutes later.
There was no Daniel Sturridge for Liverpool as he continued to nurse a thigh injury and it would quickly become evident how much we missed the forward. Jamie Carragher was named in defence once again and it was Shelvey chosen to partner Luis Suarez up front.
The first half for Liverpool was a relatively decent one. I popped online at half time and most of Twitter appeared to be annoyed with the performance so far, I however was focusing on the positives after all, Pepe Reina was completely untroubled and all the chances were falling to us, however, I was wrong to be optimistic.
The first half allowed Liverpool to really apply pressure on the baggies, each and every time the away side picked up the ball there was a red shirt either directly in front of them or racing towards them, it was brilliant to see, the problem though was that when Liverpool did have or retain possession we were failing in the final third. Unfortunately for Liverpool the likes of Glen Johnson and Jose Enrique were on an "off day" and so supply into the box was limited and when it did occur it wasn't always up to standard.
Combating this though was Stewart Downing, I'm not his biggest fan but he was arguably the best player for us yesterday and thankfully his crosses and runs were causing problems. It was clear though that Liverpool were missing that poaching attitude. Suarez had several chances of course he did but he was never hovering in the box waiting for a cross because he's always trying to do everybody's job and create the effort from outside the area himself. Liverpool were in control of the game and had all the chances but vitally, they couldn't find the back of the net.
In the meantime West Brom after their run of form were more than happy to park the bus for the whole of the first half and with the aid of an on form Ben Foster they did exactly the same in the second half too.
Just before the hour mark, Liverpool realised that they needed to make some changes, Borini and Sterling were brought on replacing Henderson and Shelvey. Shelvey was pretty quiet for me and so I felt that was a good substitution and it was also brilliant to see Sterling playing again.
Borini and Sterling added some more options for Liverpool but still they couldn't find a goal. A succession of efforts from the Reds one after the other in the second half left West Brom wondering how they'd managed to keep the ball out, but it just wasn't happening for Liverpool at all.
At 76 minutes Liverpool were awarded a penalty. Some would argue it was a soft one but West Brom needn't have worried anyway because captain reliable Steven Gerrard had his penalty saved by Ben Foster. For me, this was a turning point. West Brom now also had Lukaku on, a monster of a man and so they knew if their chance arose, they could snatch all 3 points.
At 80 minutes McAuley (whose parents are Liverpool fans) silenced the already quite Anfield faithful with a headed goal for his side. After seeing how much freedom Agger was allowed in the opposition box it makes you wonder why the Dane allowed his counterpart the same deal.
It almost felt like the Reds had given up after the West Brom goal went in and things were made even worse when Steve Clarke's side found another. At 90 minutes Lukaku scored from close range completely distinguishing any hopes Liverpool had of scraping a draw.
It was a terrible game to watch by the end of the 90 minutes but one thing is clear Liverpool can't afford to waste their chances and they need to take them when they're in control. West Brom were in a terrible bout of form and although it was clear their tactics were to aim for a smash and grab all along it simply shouldn't have been allowed to happen.
Next up for Liverpool is Zenit.
Get link

Facebook

Twitter

Pinterest

Email

Other Apps