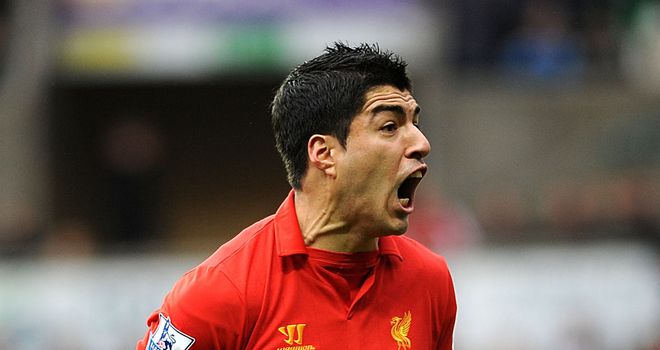 Let's hope Luis Suarez is on form...


Image:

skysports.com
Liverpool welcome Zenit St Petersburg to Anfield on Thursday evening as manager Brendan Rodgers sits hoping for one of those famous, magical European nights. Of course this isn't the Champions League and nobody is expecting an Olympiakos type of night but wouldn't it be brilliant to watch us pull off this result and go through to the next stage?
Liverpool are unable to play Sturridge and Coutinho who frustratingly are both cup tied, both men were on the score sheet in the emphatic win over Swansea and the Reds will need to look elsewhere for their goals. Also unavailable is Fabio Borini who has dislocated his shoulder. Zenit have no new injury worries and it is predicted manager Spalletti will put out the same team.
I'm sure it hasn't been long enough for you to forget the scoreline when the teams last met but just in case you missed it all, Liverpool lost 2-0 in Russia and Zenit had the very influential Hulk on the score sheet.
Liverpool have shown against Swansea that they are in fact capable of gaining control, finding a lead and not only keeping hold of it but cementing the result. Swansea though were a weakened side and the last Premier League outing before that for the Reds ended in exactly the same way as the game in Russia.
Zenit are a very dangerous side and they have some quality players however I can't help but feel they were allowed more freedom than they will get at Anfield, Liverpool crumbled in Russia and I get the feeling they won't allow that to happen again on Merseyside. Zenit's supporters will have also provided a massive boost but it's a totally different story at Anfield, the Kop will be the one's roaring this time, especially if Liverpool get an early goal.
Stat Sandwich
Liverpool have lost 3 games in the Europa League this season.
Korsakov has scored 52 goals in 94 matches for Zenit.
In 3 out of the Reds last 6 games in all competitions they have scored at least twice.
Despite the positivity that Anfield will bring I still can't hide from how big the task is, however I've been feeling more optimistic than pessimistic lately and if Suarez has one of his good days playing without Sturridge and can find an early goal then Liverpool are definitely well within a chance of going through. Whatever happens at least it adds some excitement to this stage of the Europa League because let's face it, it's usually pretty dreary.
Enjoy the match folks!