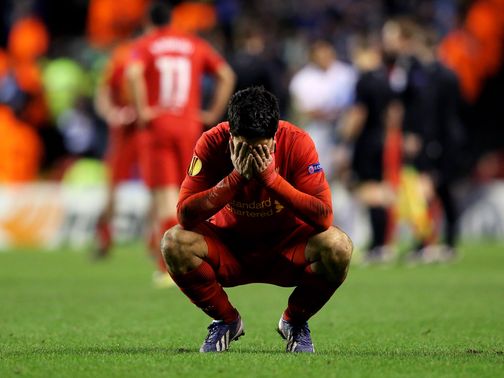 Say what you want about Luis Suarez but the man lives his football...


Image:

sportinglife.com
Liverpool were just 1 goal away from progressing through to the next stage of the Europa League last night but an early mistake by stalwart Jamie Carragher made things even more difficult for the Reds. They found their 3 goals though courtesy of Luis Suarez and Joe Allen but that fourth goal remained too elusive for Brendan's boys.
Liverpool started their strongest possible side with Luis Suarez leading the line. It's been a blow not being able to start Sturridge in these fixtures and so it was clear it would fall to Suarez and Gerrard to find the back of the net unless of course a more unlikely source popped up.
Liverpool started in a very positive but slightly nervy manner in my opinion. There was such a rush to find that first goal that at times mistakes were being made, Zenit were too good a side to gift them with possession and thankfully Liverpool eventually calmed down.
It may have been the Europa League and not the Champions League that we all love so much but Anfield was still a wall of noise last night, each time a Zenit player had the ball the boos rang out, when Liverpool regained it, cheers echoed, it was just the atmosphere the lads needed to pull off what most teams would see as impossible.
Unfortunately for the Reds things didn't originally go according to plan. Just before the 20 minute mark the ball fell to Jamie Carragher, in his 150th European game and with the fans blasting out a rendition of "We all dream of a team of Carraghers" everybody knew he'd have this under control, but he didn't. A slip from the number 23 allowed Hulk through and he made no mistakes smashing his effort low into the middle of the goal.
You just couldn't make this stuff up, Jamie Carragher of all people is the man you rely on most but everybody makes mistakes and this silly one by Carra had put us in a right predicament, we started needing 3 goals and now we needed 4 but we're Liverpool and at Anfield on a night like this, anything can happen.
Just ten minutes later and Liverpool were presented with a real opportunity to get themselves off the mark. A great run all the way from defence by Daniel Agger ended with him being taken down just outside the box. Moans from Denisov meant the Zenit player was booked but despite his arguments he wouldn't be able to stop Luis Suarez.
The Uruguayan stepped up to take the free kick and must have noticed the gap he was going to penetrate, in fairness it wasn't the best wall from Zenit but Suarez's intelligence allowed him to penalise them, his strike flew through the wall and past the keeper putting Liverpool back in the game, now they needed 3 goals again.
With Anfield now creating even more decibels it was only a matter of time before the consistent Liverpool pressure provided another goal. It was perfect timing really when the Reds found their second just before the half time whistle.
A pass from Enrique that deflected off a Zenit defender allowed Joe Allen a headed effort which was parried away but Allen then managed to get a foot on it and put Liverpool's second into the back of the net. Suddenly the comeback once again seemed possible, now all we need was 2 goals and we still had the whole of the second half to find them.
Zenit made two substitutions for the second half perhaps realising that they were being bullied far too much, Liverpool had real momentum now and the Russians knew it.
We had to wait until the hour mark though until our next real opportunity arose. Another free kick from just outside the area had all of the Kop praying that Luis Suarez would work some of his magic once again, and boy did he!
A simply sublime free kick from Suarez saw him send the ball curving way outside of the post only to weave back in straight into the back of the net, what a goal! Anfield went absolutely mental and so did Suarez, you could see how much he of all people wanted this, clenching his fists and screaming his head off, all we needed was 1 more goal, 1 goal after all of this effort, surely it was possible now?!
Assaidi and Shelvey were brought on just after the goal replacing Henderson and Joe Allen. Admittedly the subs weren't as effective as perhaps we all would have hoped but those people online yesterday looking for blame that shouldn't have existed and trying to pin it on Rodgers? Well they're just stupid. Shelvey should his chance of been a few more inches to the right could have been the one taking Liverpool through! But it wasn't to be.
The Reds played all the way to the whistle but Zenit were victorious on aggregate. That silly mistake from Carragher cost us and as gutted as he will be and as gutted as we all are I don't personally feel we could have asked for much more.
It's a bit cliche to say there's no other team like Liverpool when it comes to situations like this but it's true, most teams certainly wouldn't have found 3 goals under the circumstances and would have fallen at the first hurdle, we gave it our best shot but we're out, now all we can do it give it one last push in the league and see what happens.
Next up for the Reds is Wigan.