Get link

Facebook

Twitter

Pinterest

Email

Other Apps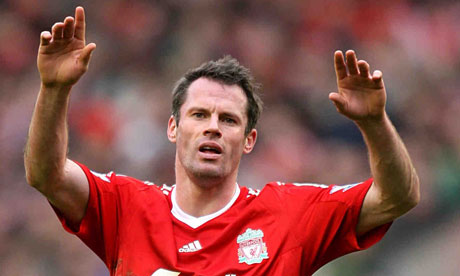 Carra says farewell at the end of the season...


Image:

guardian.co.uk
Sunday marks the day for the 220th Merseyside Derby. It's quite hard to believe there's been so many clashes between the red and blue side of Liverpool but any fan will tell you that this game means the world, it means even more when you realise Liverpool could close the gap on Everton with 2 league games left to go this season.
Liverpool are in a decent position injury wise with no new real worries. Suarez is obviously still unavailable but Fabio Borini who scored in the last fixture is expected to be on the bench again for this one. Everton are also in a relatively strong position although Phil Neville will miss out due to a knee injury.
Everton are currently sitting pretty in 6th place holding on to a Europa League spot. Liverpool are in 7th behind them which wouldn't be good enough for Europe this season due to Swansea winning the cup. An interesting debate was spurred up on Twitter this week after the club suggested they would turn down a place in the Europa League through the fair play league due to their commitments in Asia and Australia for summer friendlies. I personally thought this was ridiculous, if you'd rather play friendlies than competitive football matches then in my book something is wrong. Luckily Brendan appears to have spoken out yesterday saying that the club would of course accept the place. It doesn't seem hard to fulfil both commitments really, we have a squad for a reason, utilise all of it.
Anyway, back to the match preview...
The last time the two sides met was in October last year. It was an exciting fixture as always and the Reds lost their 2-0 lead meaning the game ended 2-2. Luis Suarez was on the score sheet that day.
Suarez was also on the score sheet for the last meeting at Anfield and so too was on loan striker Andy Carroll. The last time Everton won at Anfield, most football fans will remember because the game in 1999 saw 2 Liverpool players and 1 Everton player sent off in the fixture where Kevin Campbell scored after 4 minutes.
Stat Sandwich
Liverpool V Everton is the fixture in the league with the most ever red cards shown.
Everton have only lost 1 out of their last 8 matches in the league.
Steven Gerrard is 2 goals away from 100 in the league.
I'm pretty excited for this fixture, you have to hand it to Everton they've had a pretty good season and have been playing well but if Liverpool can portray some of the magic they showed against Newcastle then Everton could find themselves under pressure immediately. Players have been talking down the derby this week but we all know it means everything to them, losing is not an option!
Enjoy the match folks!
Get link

Facebook

Twitter

Pinterest

Email

Other Apps