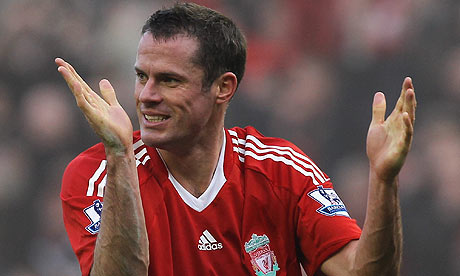 We all dream of a team of Carraghers...


Image:

guardian.co.uk
Well, here we are, the end of the season. This one in particular seems to have flown by and unfortunately I a have to admit I've found myself a bit bored this season, I just haven't felt fully entertained, only at certain points, here's hoping next season we can improve on that!
Sunday of course may be the last game of the season but with Liverpool destined to finish in 7th place win, lose or draw all of the focus is on the retiring James Lee Duncan Carragher. I've always loved Carragher, from schoolgirl crush to adult crush to having a general soft spot for traditional old fashioned defenders, I just feel that he's a credit to not only his sport but to sportsmanship and to gentlemen as a whole.
On Sunday there will be a guard of honour for Carragher who retires after 16 years at one club, something you don't see very often at all these days. There will be presentations, talks and of course banners and you can be certain a rather noisy version of "Team Of Carraghers" will be ringing around Anfield, all in all it should be a very special occasion. So special in fact that even Carragher's Mom will be attending the game.
Onto the match...
Injuries for Liverpool mean they are without Steven Gerrard and Daniel Agger. Also out is Suarez, still serving that ban but there is a hope that Skrtel may be able to feature this time after missing out on the last match. For QPR they are without Taarabt, Campbell and Wright-Phillips but they won't be too worried as they're only really playing for pride.
The last time the two sides met was in December last year, on the score sheet were the missing duo of Daniel Agger and Luis Suarez, Suarez getting 2 for his side. In terms of QPR's visits to Anfield, they don't come often and so we have to go back to March 1991 to find a win for the Londoners.
Stat Sandwich
The Reds have scored the most league goals since January scoring 39 times.
QPR haven't won in their last 8 games.
Daniel Sturridge has found the back of the net 6 times in his last 4 games.
I think Liverpool have the win sealed here, with no real pressure on them and everybody wanting the side to end on a high and with the added emotion of it being Carragher's last game. This will be Carragher's 737th game, a truly remarkable achievement I'm sure you will agree and I seriously hope we can send him off in style with a win and somebody please, set the poor lad up! Lol
#CarragherHatTrick