Another Sturridge Stunner Gives Reds Another Win
Liverpool lined up at Villa Park on Saturday evening looking to notch up another win in the league. After Daniel Sturridge's first half goal their prayers were met and the Reds had won two on the trot in the Premier League for the first time in 5 years. A solid first half from Liverpool saw them dominate in possession but momentum was lost slightly in the second half. Thankfully Simon Mignolet was on song when called into action and it was a good result for Brendan's side who would have probably lost or drawn a game like this last season.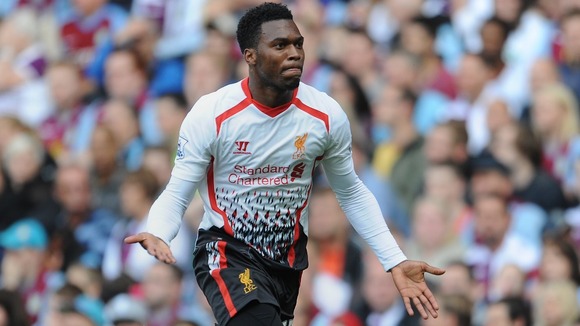 Image:

itv.com
It was the same starting XI from the Stoke game chosen by Brendan Rodgers and the travelling Kop would have been very much looking forward to the link up play between the likes of Coutinho, Aspas and Sturridge again. In defence cult hero Kolo Toure was once again paired with Daniel Agger.
It was a calm and composed start from Liverpool who had a large quantity of possession for the majority of the first half. There appeared to be a man free to pass to each time a red shirt was looking, not only this but if Villa did get the ball, play was closed down quickly and possession was restored in no time. It was brilliant to see such a calculated system because we all knew we had to be weary of Villa's counter attack and Benteke especially. Liverpool though had things covered, creating pressure whilst both in possession and out of it.
Liverpool's only goal of the game came just after the 20 minute mark and no matter how many times you watch this one on replay you'll never get bored. A lovely ball from Enrique was left by Coutinho who must have heard a call from Sturridge running into space behind him, taking on the defence with some lovely touches, it looked as though Daniel had taken the ball too far but with a lovely toe poke high into the net, he'd stunned the Villa fans and put Liverpool 1-0 up in supreme fashion. It was a simply sublime goal, I've brought it up on several occasions on Twitter but I seriously never understood why a few fans were so adamant they didn't want him in the side, he's been fantastic so far and can only get better in my opinion. Even with pressure on his shoulders from the absence of Suarez, he's playing brilliantly.
Late on in the second half Villa finally had some attempts, Simon Mignolet parried away a Benteke chance with 5 minutes left on the clock and there was also an effort from Weimann but Daniel Agger read it well. Unfortunately for Villa after playing so well against Arsenal and Chelsea they were looking very drab for the first half of this fixture, Liverpool were very much in control but surely Villa would come out in the second half with some fire in their bellies.
The second half saw Villa a lot more present in the game and Liverpool began to lose momentum. Luckily though the Reds never lost their concentration and the defence was solid and confident. Steven Gerrard also I feel needs to be praised for Saturday's performance because he ended up playing a very defence game and made some great blocks and last minute calls to help his side remain ahead.
Just before the 70 minute mark Liverpool introduced their new signing Aly Cissokho, Iago Aspas left the field. The man on loan from Valencia lost the ball in his first moment of the game but on the whole he looked pretty promising.
With 5 minutes left on the clock Villa's star man Benteke nearly spoiled the Liverpool party when a headed ball fell to him perfectly, thankfully his compatriot Simon Mignolet was once again extremely alert and made another good save to keep his side's clean sheet. There was also a penalty shout for Liverpool late into the game, I personally didn't get a good look at the replays but it looked as though they were lucky to me, thankfully the decision didn't matter too much though.
I thought on the whole this was another positive performance for the Reds. I mentioned it on Twitter after the Stoke game when I returned home that these are the sort of fixtures Liverpool would have been losing and drawing last season, it's perhaps a bit cliche to say this but it's true, in games like this last season where Liverpool were losing their legs a bit you would see us making silly mistakes but we didn't here, we remained composed and got the job done. It may not be terribly exciting but I'd take ground out 1-0's all season! It was the smaller teams that were stumping us before, the big teams we always seem to play well against but if we can get these sort of results against the other sides as well then for me that is a real plus. I still hope we can bring in a couple more faces before that transfer window slams shut though!