It was a game ex Liverpool man Jonjo Shelvey would probably rather forget and during his post match interview it did look like he was trying his best to block out the previous 90 minutes because after a dream start for the midfielder, things quickly took a turn for the worse. Jonjo opened the scoring for Swansea after a miss kick eventually led him to an opportunity to find the back of the net. Shortly after though he gifted Daniel Sturridge an equaliser and that wasn't even the end of the story.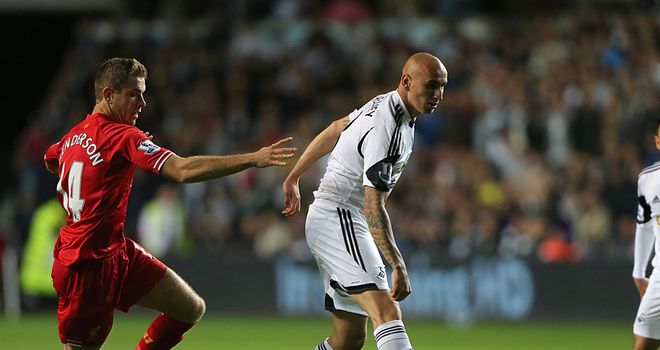 Shelvey evades Jordan Henderson...


Image:

skysports.com
Liverpool had made some changes to their starting line up, namely the addition of new signing Sakho who replaced Daniel Agger. Agger apparently was injured in a "freak gym accident"... that's a new one. Victor Moses also made his debut for the Reds.
Anyone who looked at this match thinking it was going to be easy was mistaken from the onset in my opinion but I don't think anybody could have predicted the way the game opened.
In the second minute of the game Jonjo Shelvey attempted a long range shot but fluffed it. The ball remained at his feet though and after finding his way into the box his second attempt at goal was met by a block from Martin Skrtel, with the danger not fully cleared Jonjo had one last swipe and with a lovely finish put the ball past Mignolet to give his new side the lead.
Jonjo made a point not to celebrate in front of his old fans but he'd soon be showing a different emotion anyway just over a minute later. With Swansea in possession it looked like a routine forward pass was coming from Shelvey but as he began to turn his body back to goal an ever aware Daniel Sturridge had already made a move to intercept the pass he knew was coming.
Shelvey's pass back to goal was far too risky and with a first time left footed finish Daniel Sturridge made it 4 in 4 and put Liverpool immediately back into the game. Shelvey on the other hand looked absolutely gutted.
With Liverpool finding an equaliser so quickly Swansea definitely had the wind taken out of their sails, they had no chance to capitalise on a somewhat fortunate lead and so the Reds had the upper hand. For the first 45 minutes Liverpool's control on the game really showed, Swansea barely troubled Simon Mignolet and the Reds were dominating possession.
Coutinho's famous footwork was causing problems for Swansea and an impressive start to Victor Moses's Liverpool career meant the Welsh side had a lot to deal with. At 35 minutes Liverpool converted their pressure into a lead and who gave away possession again? You've guessed it, Jonjo Shelvey. A diagonal pass was never going to find its way to a team mate and Victor Moses jumped at the chance to steal the ball, a run that lead him all the way to the edge of the D was finished with a powerful shot entering the bottom left of goal. I must admit I was over the moon with Moses, I wasn't necessarily one of the fans who was mega excited at his signing but I was very intrigued and he's certainly done a lot to impress me in his first game. We have definitely needed a proper winger for a long while now and maybe Victor can finally fill that gap.
By half time Liverpool looked destined to seal a victory, goals were still within their grasp and Swansea looked flattened but it is often amazing what the half time break can do. Swansea came out revitalised, determined not to give up and the pressure would soon switch from a Red origin to a White one.
Swansea also made a sub at half time replacing Nathan Dyer with Jonathan de Guzman.
After 10 minutes of the second half Liverpool were also making a substitution, an injured Coutinho was replaced with Iago Aspas. Unfortunately for Aspas he had a pretty dire game, I hate jumping on a new signing's backs and obviously all hope is not lost just yet but he didn't really add anything to our game and lost possession on several occasions. This is quite worrying considering the role he plays but hopefully he can adjust, learn and improve after all this is only one match.
Shortly after the substitution there was an incident on the field between Shelvey and Lucas. It was essentially handbags but it wasn't nice to see ex team mates pushing and shoving each other over nothing, both got booked for their troubles too so it was hardly worth it!
Whilst Liverpool continued to try and regain a foothold on this game Swansea were becoming ever more confident. Some of their key players like Michu had been quiet in the first half but now they were coming to light. Michu was back to his old self just after the hour mark when after being set up by... YES Jonjo Shelvey, he converted to put his side right back in the game.
By now, Liverpool looked as though they were trying to hold on for the draw. Kolo Toure replaced Andre Wisdom with 20 minutes to go and the Reds looked reluctant to break. A lot of criticism was given to the defence on Twitter last night but I think they dealt effectively with the Swansea pressure especially late on in the game, it may not have been a textbook response but it worked and they successfully prevented Swansea from finding a winner.
Raheem Sterling added some late excitement for the Reds as he definitely wanted to help Liverpool find a late winner. A free kick from Steven Gerrard gave Liverpool some sort of chance but in his 400th appearance as captain Stevie took the chance himself and sent his effort over. As the game wound down it was Swansea that were still pushing but thankfully for Liverpool the game ended 2-2 and the Reds were back on top of the league.
This match is a difficult one to analyse really because of the nature of how it started. Swansea are not an easy team to beat at home and so some would say a draw is a good result anyway, I'm certainly happy with the draw although it would have been nice to collect 3 points of course. The other thing to note is that Liverpool could have come off a lot worse in this game, the early gifted equaliser for us as I said in the post seemed to take the bite away from Swansea, if we hadn't of found a goal so quickly I think Swansea would have pushed hard and perhaps even have found a second before half time but then this is all guess work isn't it?
The point is, it's a decent result, we still haven't lost and we're still top of the league with Southampton at home next. I get the frustation from some fans about particularly the second half performance but I don't understand when people act like it's the end of the world because quite frankly it's not.
__________________________
Vote for The Liver Bird as best #Female blog in this years Football Blogging Awards!
You can vote on Twitter by following the link below, selecting "Female" from the starting line up and entering "
@_TheLiverBird
" in the "replace blog" section:
http://www.footballbloggingawards.co.uk/blog/voting-football-blogging-awards.php
Alternatively you can head over to Facebook via the link below and enter "The Liver Bird" in the #Female box:
As always your support is very much appreciated!
#YNWA
P.s. all Twitter votes will receive a shoutout from the blogs brand new dedicated Twitter account!