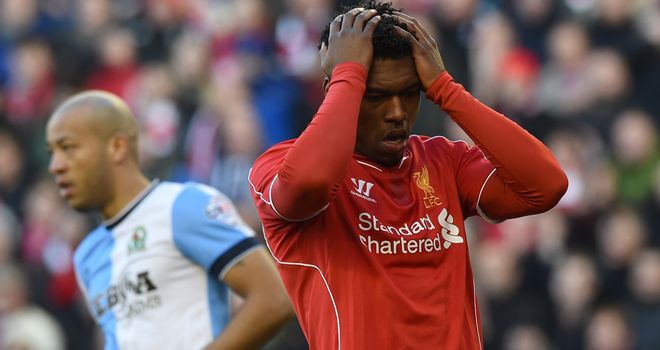 Image: skysports.com
Liverpool have created themselves an extra fixture as they head towards the final portion of the season after picking up a 0-0 draw with Blackburn in the FA Cup quarter final. It was a game that really on paper the Reds should have had wrapped up but a lack of chances and poor conversion left Liverpool winless.
The first big moment of note in the game involved Martin Skrtel. After he fell awkwardly from a Gestede challenge he actually lost conciousness momentarily on the pitch. Medics were very concerned and couldn't take any risks and so the defender left the field on a stretcher giving a thumbs up as he went. Thankfully Skrtel was fine and after the match he indicated how he wanted to play on but he wasn't allowed to, gotta love the man haha.
The injury shook up Liverpool's already slightly different defence. Brendan Rodgers had pushed Can up into midfield from the back three. Now at the start of the season I would have preferred Can here but after forging such a good partnership with his teammates at the back I felt he would of been better off there. The real issue for me here was that Can had taken the Lucas/Allen role, these players may get some stick but they add much needed balance which in turn allows Henderson the freedom to support the striker. We missed this support on Sunday I felt.
In the first half a couple of penalty shouts grabbed the headlines, firstly a Lallana incident which to be honest I feel we would have been lucky to get. This was then shortly followed by an incident involving Sterling. Whilst defending, the ball hit off Raheem's arm as he was running, I personally don't feel there was any real intention here to handle the ball however Blackburn fans may feel different.
Blackburn were relying on Gestede in the first half as Liverpool struggled to deal with the pressure. I genuinely thought Blackburn were going to find the back of the net in the first half but somehow it just didn't happen. The Reds did get the ball in the back of the net of course but Kolo's effort was correctly ruled offside.
In the second half the Reds began to obtain more possession and it was Blackburn who then had to deal with bouts of pressure. As is often the case with Liverpool though, we create chances but lack that clinical final touch and so the away side remained very much in the game.
Mario Balotelli entered play just before the hour mark, much to my excitement. I was quite shocked Brendan had brought him on but I do feel he definitely boosted our game. For those saying he doesn't "move" or "try" I can't see how you'd back that up watching those 30 minutes. He may not have scored but he did a lot more than most on the pitch Sunday evening.
The second half continued but with no goals for either side. The best chance for Blackburn came after a sudden header from Baptiste was saved brilliantly by Simon Mignolet. For Liverpool a powerful strike from Daniel Sturridge was perhaps their best hope but again, the effort was saved.
Penalty incidents again arose in the second half, particularly when Sturridge was pulled back in the box. For me, there wasn't enough in it here, I was more concerned with the multiple incidents of Balo getting ragged in the box from corners and set pieces.
And so, that was that. The Reds had failed to find a way past Blackburn and must now hope a trip to Ewood Park will prove more fruitful. The game will come in the week we face Manchester United but if Liverpool want to end this season in some form of glory then it should be possible for an in form team like ourselves to nab fourth and get to an FA Cup final in my opinion but I suppose we will have to see.
______________________________________________________________________________
Just a reminder folks I will unfortunately be missing quite a few match previews and reports over the coming weeks as I am jetting off to Mexico! I may be able to provide a Swansea preview it depends how busy I am in the run up with packing etc so I may schedule that. There will definitely be no United preview or report which I'm gutted about and there'll also be two posts missing now we have that Blackburn replay.
I'm sure you won't miss me that much but laugh all you want I can promise you it's going to feel very strange for me missing several posts, I may not be many things but I am definitely dedicated haha.
I shall return soon one way or another with more footballing nonsense so stay tuned!
Kirsty :)