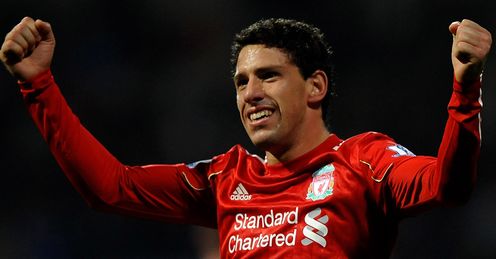 Maxi celebrates the winner for Liverpool...
There were no horrors in store for Liverpool yesterday after their Halloween clash with Bolton Wanderers ended in a 1-0 win. The victory takes the Reds up into 12th and finally out of the relegation zone. Perhaps not a perfect performance and it did begin to get worrying as we got closer to the 90minute mark but refreshingly, the lads didn't give up and in the end we deserved the win.
Roy fielded an unchanged line up which meant thankfully Christian Poulsen was on the bench. Glen Johnson was still deemed unfit so Jamie Carragher was again played out of position making Skrtel and Kyrgiakos the centre pair.
Liverpool started well, Joe Cole was quick off the mark sending in some lovely balls and Konchesky was trying his best to push up field to help with the threat. Fernando Torres was unlucky a few times with an unsuccessful header and an offside call but it was clear the Spaniard was causing problems.
For Bolton, Stuart Holden was perhaps their best attacking option after a powerful strike was saved by Pepe Reina. Elmander who has been pairing up well of late with Kevin Davies appeared to be leaving his partner to make an impression as his touches and play in the final third became sloppy.
It was a confident display for Liverpool in the first half ending with a good header from Kyrgiakos who was eventually ruled offside. My quid on him to score first was looking as though i might see some winnings but it wasn't just the big Greeks attacking abilities that were troubling the Bolton side.
The Greeks aerial battles never cease to amaze me, he barely ever fails in the air. As the commentator suggested at the start of the match, the game could be decided by how the pair of Kyrgiakos and Skrtel deal with Kevin Davies... Well i think its safe to say Kyrgiakos dealt with him superbly. Some edgy moments when a couple of barges from the Greek could have seen him get in trouble were easily forgotten after a fantastic 90minutes from the fast becoming Kop favourite.
Second half for Liverpool began with much of the same. Bolton did appear to be slowly gaining a foot hold but good defending and still some life in the attack meant Liverpool could deal with Owen Coyles boys but also supply some attempts in front of goal.
Fernando Torres again came close and Steven Gerrard was unlucky early on too.
Just after the hour mark Liverpool were dealt a blow though when Joe Cole pulled up. The ex Chelsea man had a slightly frustrating game but definitely put his all in. Roy Hodgson to be fair i feel made a good decision in replacing Cole with Ngog rather than bringing on another winger.
Ngog's hold up play is arguably one of the best. Just that simple attribute from him i feel changed something for Liverpool. The Frenchman may not have been productive in front of goal in his 30minutes but he added value elsewhere.
As the clock ticked closer to 80minutes, nails were beginning to be bitten. Maxi Rodriguez who i feel had a great game for the Reds was extremely unlucky when his acrobatic shot went over the bar. Another chance from none other but Sotirios Kyrgiakos made it feel as though the goal was coming but would Liverpool have enough time to turn around what would have been a disappointing 0-0 draw?
86 minutes and Liverpool finally got on the score sheet. A sublime link up between Torres and Maxi sent the away end crazy. Fernando Torres with a simple but brilliant little flick sent the ball through the Bolton defender's legs and through to Maxi Rodriguez who with a lovely little toe poke made it 1-0 to the Reds.
A well deserved goal i felt for Maxi who for me from kick off was looking one of the most lively players. His set up for Gerrard who hit wide and his acrobatic miss made this goal all the more worth while.
Hodgson brought on Poulsen at 88minutes, i assume to shore up the midfield but he still didn't really seem to do his job even within the narrow 2minute margin. Nonetheless Liverpool held on to gain a well needed three points and Roy chalked up Liverpool's first away victory in the league since April.
The back to back league wins make a lovely springboard to try to get to that "steadying the ship" level. However with Chelsea up next in the league we may have to navigate through a few more icebergs until we can get to port.
With Napoli up next (on my birthday :D) it would be nice to bang another win out even if it is in the Europa League to keep us in a good state of mind for the massive task at home to Chelsea.