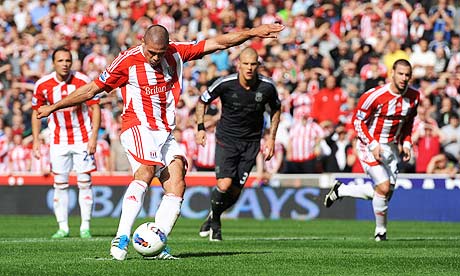 Walters converts his penalty for Stoke...
Despite 24 shots at goal Liverpool could do nothing yesterday to break through the brick wall of Stoke's defence at the Britannia. The home side put themselves in front with a penalty early on and never looked back. Tony Pulis' boys continue their unbeaten run in their fantastic start to the Premier League season.
New signing Craig Bellamy had to settle for a start from the bench and so too did Uruguayan defender Sebastian Coates. Suarez was the main man up front and Jose Enrique gained himself another start in Dalglish's defence.
The match unfortunately for Liverpool was marred by penalty decisions and missed chances.
The first incident for Mark Clattenburg to make a call on was a hand ball by Rory Delap in the box. Contact was made by the Stoke player after Kuyt had kicked the ball and from what i could see, Delap made no attempt to move his arms out the way, i realise Clattenburg doesn't have the bonus of watching replays but i think he made the wrong decision here, it was a penalty for me.
Shortly afterwards, it was down to Clattenburg again to make another important decision. Jamie Carragher was tracking Jonathan Walters into the box and used his arms to gain an advantage. In my opinion this one could have gone either way, Carragher looks to have grabbed Walters after using his arms to his advantage but i think even Carragher should know that this kind of play is dangerous in the box. I personally don't think we can make too much of a fuss about it, not as much as the Delap decision anyway.
Walters stepped up to take the penalty as Pepe Reina looked to prevent his side from going 1-0 down. Walters hit it straight down the middle with power and Reina's dive to his right left him with no chance of saving the Stoke effort.
We knew it would be difficult at the Britannia but i don't think many were expecting us to be down so early in the game. What would follow would be the parking of the bus from Stoke, content with their goal they saw a chance to defend to the death and play the long ball, their tactics not favoured by many, worked perfectly for the home side.
Suarez did his best to bring his team into the mix before half time but a slightly disappointing first half from the midfield meant it was a frustrating 45 minutes for the Reds.
Peter Crouch, who i thought would have immediately caused trouble for Liverpool didn't have the best debut for Stoke to be honest and despite annoying Carragher which had remnants of training pitch banter at Melwood back in the day, Crouch was pretty absent.
Liverpool's best collection of play came just after the hour mark and if anything gave an example of how the 90 minutes went for Liverpool, the next few minutes did.
Jordan Henderson, clear in space begins a run and is faced with only the goalkeeper. His first shot was poor and Begovic clears, the ball splays back out to Henderson who takes another shot and it's blocked again, then again! Charlie Adam fancies his chance to end this madness and has a pop at goal, Ryan Shawcross manages to get in the way but once again the ball comes back out to Adam, another shot at goal is saved by Begovic and Liverpool can only reel in shock.
How on earth none of those attempts found their way into the net i do not know, but this proved the grip Liverpool had on the game. Stoke just were amazing with dealing with the onslaught of Reds chances, if not lucky.
Andy Carroll and Craig Bellamy were brought on shortly after the five blocked chances. With those names plus Suarez up front now, on paper, that was a superb strike force.
Bellamy found himself with a chance to save the day for Liverpool, he rose for a header and made good contact but the Welshman missed to the left of goal. Andy Carroll too saw his headed effort blocked and it was just one of those days for the Reds.
Before time was up for Liverpool, there was just enough left on the clock for another penalty decision. After watching a dodgy stream, i didn't see the incident live but from the commentary, i heard Suarez was going mental and from the countless numbers of tweets coming in, it appeared everybody thought it was a penalty.
Unfortunately i have to disagree, after watching the highlights, i think it was more a case of ball to hand. Upson was hit on the leg before it made contact with his arm and from what i could see there was little he could do in the position he was in to get his arms out of the way and he certainly didn't appear to me to be putting his arms into the path of the ball.
If I'm honest i think after the two earlier decisions, one a penalty for us and the second perhaps a bit harsh, people were just getting desperate.
Suarez after receiving a yellow card never gained his penalty but he was given a chance to snatch Liverpool a point in the dying minutes. An almost open goal mouth had everyone convinced Suarez would pop this in the net but the striker didn't connect very well at all and the ball was sent wide.
A very disappointing loss for Liverpool because the efforts put in made it feel like we should have got something from the game. Credit given when due though, Stoke had a game plan and they followed it through perfectly, nothing was getting past them yesterday.
Next up for Liverpool is Tottenham Hotspur, hopefully we can quickly get back to winning ways and i hear Captain Steven Gerrard could be back for the fixture too.