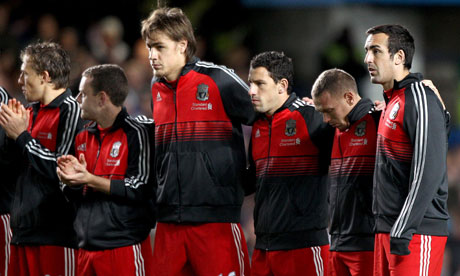 An emotional Craig Bellamy during the minutes applause for Gary Speed...
Liverpool have booked themselves a place in the
Carling Cup
Semi Finals after beating Chelsea for the second time in ten days at Stamford Bridge. The 2-0 win saw Martin Kelly and Maxi Rodriguez bag the Reds their goals whilst Chelsea couldn't even muster a consolation.
Dalglish was true to his word and fielded a lot of different faces, Enrique, Reina, Lucas and Henderson however kept their positions after the Man City draw at the weekend.
Villas-Boas had also thrown in some non regulars in the likes of Turnbull, Bertrand, Lukaku etc. Arguably the Chelsea second string seemed a lot weaker than Liverpool's.
Very early on in the game there were two penalty decisions before a third was given. David Luiz went down in the box after a Coates challenge and the referee decided to give Luiz a yellow card for simulation. I think to be honest in a different game the penalty may have been given but it was good to see that Dowd did give a card, too many referees see a player diving in the box, don't give the penalty but then don't give a card either. As for Liverpool's penalty shout, that too could have gone either way but for the Reds it wouldn't be as crucial because minutes later a penalty was given to the away side.
A blatant handball from Alex in the box was missed by Dowd but his linesman encouraged him to make eventually the right decision.
Andy Carroll
stepped up to face Ross Turnbull. The Geordie smashed his effort with great power but straight down the middle and Turnbull saved. I must admit it wasn't a fantastic penalty but some of the abuse Carroll was getting for that was ridiculous, when Suarez skied it against Sunderland nobody jumped on his back did they?
No goals were scored in the first half and Chelsea had little threat on goal. Villas Boas must have predicted what was beginning to happen because he brought on Ramires just before the whistle in an attempt to boost his sides performance.
Chelsea's best chance of the game was probably a shot from David Luiz, Reina was otherwise occupied so it was left to Sebastian Coates to block on the line, keeping Liverpool in the game.
3 minutes later Liverpool had got themselves on the score sheet. A great ball from Jordan Henderson placed Craig Bellamy perfectly on a run, his ball into the box to an awaiting
Maxi Rodriguez
was fantastic and just like ten days ago, the Argentinian calmly put the ball into the back of the net.
Craig Bellamy was visibly moved during the minutes applause at the start of the game for Gary Speed but the Welshman certainly composed himself for a brilliant 90 minutes. Extremely proud of Bellamy, true courage.
And Bellamy wasn't finished yet. A foul on Jose Enrique gave Liverpool a free kick on the left flank outside the box. A sublime ball in from Bellamy was met by the head of Martin Kelly scoring Liverpool's second and his first goal in a Red shirt.
After Liverpool's second, Chelsea could see their chances of a place in the semi finals slipping further and further away. Manager Villas-Boas brought on Anelka and Mata just after the hour mark in the hope that their presence in attack would be enough to get Chelsea back into the game.
Lucas Leiva suffered an injury in the second half after a challenge from Ramires. The midfielder had to be replaced with Charlie Adam just before the 70 minute mark.
Dirk Kuyt and Martin Skrtel were also introduced late on for Liverpool. Skrtel helped a defence who began to come under some increased pressure but the Reds dealt with it well.
I'm personally so excited at the prospect of Liverpool in the semi finals and over two legs i always fancy our chances against any opposition. A good solid performance from Dalglish and the boys and they can enjoy a long rest now until Fulham on Monday.