Whenever somebody utters the name of Liverpool Football Club, it's synonymous with great managers and great players. Over the years
Bill Shankly
has become an icon but many people forget the achievements of his successor, Shankly began the dream, but it was none other than Bob Paisley who ensured it continued.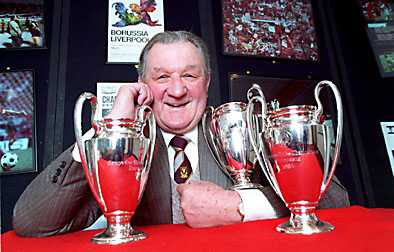 The Basics
Full Name: Robert Paisley
Nickname: Bob
Date Of Birth: 23rd January 1919
Born in: Sunderland
Position As A Player: Defender
Years As A Liverpool Player: 15
Years As Liverpool Manager: 9
Playing Career
Bob Paisley began his footballing career at Bishop Auckland a none league side close to Durham. Bob made his move to Liverpool in 1939 but because of World War 2 he was unable to make his debut until the beginning of January in 1946.
His first goal came against
Wolverhampton Wanderers
in a league fixture at Anfield. As a defender, Bob wasn't a huge goalscorer but managed to put 10 in the net over 253 appearances for Liverpool.
Coaching Career/Backroom Staff
Bob after hanging up his boots for Liverpool liked the place so much he decided to stay. Interestingly Bob took his next step as a self taught physiotherapist, I'm pretty certain that wouldn't be allowed nowadays!
After his spell as physiotherapist Bob went on to coach the Liverpool reserves, Bob was a key member of the famous "Boot Room" when Shankly became manager and it stayed that way until Shankly announced he was retiring in 1974.
Managerial Career
Bob took the Anfield hot seat in 1974, something he admitted he wasn't really expecting and although the fans had faith in him, i don't think anybody expected the amount of silverware he would bring.
Bob managed Liverpool for 9 seasons. Under Bob Paisley Liverpool began to dominate English football, no opposition looked forward to a trip to Anfield. Liverpool won the league 6 times under Bob, they won 3 League Cups, 1 European Super Cup, 1 UEFA Cup, 5 Charity Shields and amazingly 3 European Cups.
Bob Paisley is still the only manager in the history of football to have won three European Cups.
After Leaving Liverpool
Joe Fagan took Bob's place at Anfield after he retired in 1983 but Bob wasn't quite done with Liverpool yet. He spent some time advising
Kenny Dalglish
when the King was player manager in the 80's and was eventually made director in this period.
In 1992, Bob had to retire from his position as director at Liverpool Football Club due to health reasons. Bob had Alzheimer's Disease and after 4 years of battling he passed away in 1996 on the 14th of February. A fitting day to leave us all for a man who was loved by so many, he was 77 years old.
The Paisley Gates at Anfield were created as a memorial to the great man and still stand today.
Quotes
Bob like Shankly was famous for a quote or two, here are some of my favourites:
"I'm surprised they don't charge me rent and rates."
- After visiting Wembley for an 11th time.
"Mind you, I've been here during the bad times too, one year we came second."
"Newspapers remind me of Jaws. They'll consume anything you've got and be back for more the next day."
"If you're in the penalty area and don't know what to do with the ball, put it in the net and we'll discuss the options later."
"Kevin was quicker off the mark, but Kenny runs the first five yards in his head."
As A Player
First Division Champions - 1946/47
FA Cup Runners Up - 1950
First Division Champions - 1975/76, 1976/77, 1978/79, 1979/80, 1981/82, 1982/83
European Cup - 1977, 1978, 1981
League Cup - 1981, 1982, 1983
UEFA Cup - 1976
European Super Cup - 1977
Chairty Shield - 1974, 1976, 1979, 1980, 1982
Manager Of The Year - 1975/76, 1976/77, 1978/79, 1979/80, 1981/82, 1982/83