Get link

Facebook

Twitter

Pinterest

Email

Other Apps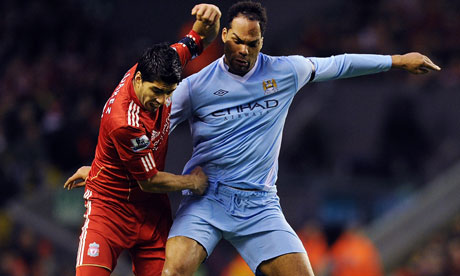 Suarez battles with Lescott...
Liverpool had to settle for a 1-1 draw at Anfield on Sunday after fighting hard against a City side that began to tire as the 90 minutes went on. Joe Hart kept the away side in the game with minutes to spare after a great save to deny Andy Carroll. Both sides had a bit of luck but neither left victorious.
The start to the game was put into great perspective after the sad news that Wales manager Gary Speed had died at the age of 42, applause and silence was given to his memory and also respect was paid to Brad Jones and his wife after the loss of their son Luca to leukemia before kick off.
Craig Bellamy was pulled out of the game due to his close relationship with Gary Speed undoubtedly having an effect on his emotions and preparedness to play.
Man City were the most lively of the two sides to start with, after a spell of twenty minutes or so with Liverpool having to deal with a string of attacks. Efforts from Yaya Toure and Silva were dealt with but it was certainly Mancini's side showing signs of scoring.
City were excellent in creating space and always having someone available to pass to but as impressive as this was, Liverpool were confident enough to allow them to do so. For several games this season Liverpool haven't been afraid to allow the opposition to play the game they want and then after some patience, hit them on the counter attack. On Sunday, it wasn't as effective as it has been but nevertheless the Reds were still holding their own.
A frustrated Vincent Kompany was booked during City's lively spell, the defender appeared unable to fully deal with Suarez and so was shown the yellow card.
With the run of play now swinging slightly in the favour of Liverpool it was left to Charlie Adam and Lucas Leiva to shine.
This duo, considering the midfield they were playing against truly shone. I must admit when
Charlie Adam
first signed for Liverpool i was slightly wary, I've always thought he was a decent player but thought he was a bit overrated. After watching him game in game out though he has continued to grow and grow, what a fantastic midfielder this man is!
His passing is second to none, he's not afraid to get stuck into tackles and regain possession for his side. He shoots, not to mention when others wouldn't even consider it and his alertness if often the reason why the opposition are left so baffled.
As for Lucas Leiva, his work isn't as flamboyant as Adam's which is why a lot of people seem to think he's useless. Far from it. This is a player who puts in tackle after tackle and calmly finds his man and moves on time and time again. He's one of those players that gets on with it, reliable and for me always a starter.
Back to City, who had managed to get themselves a corner 30 minutes in. David Silva whipped the ball into the box, a slight lapse from the Liverpool defence meant that Kompany was able to get to the ball but luckily for City after the defender missed it with his head, his shoulder did the work for him.
A rather bizarre goal but at this stage in the game it was expected. The vital thing now for Liverpool was to keep their heads, everybody has seen what City can do when they get into the flow of things, the last thing we needed was for them to get settled.
And what better way to unsettle a side than by putting one in their net?
That man, Charlie Adam two minutes after the City goal found himself with possession. At a time when most players wouldn't even consider having a pop, Adam knows that it's always worth it. Similarly to the goal against Wolves, Adam smashed his effort, it was clearly going wide, but the quickfire attempt was enough to fluster Joleon Lescott who was concerned about Kuyt on his shoulder. The ex Wolves defender made the wrong decision and turned the ball into his own goal.
This was Liverpool's share of the luck, arguably more fortuitous than a goal from your shoulder but after the work rate we'd put in, we deserved it.
The second half saw City come out straight away with an attempt from Nasri, it would be Liverpool however who would have the lions share of this 45 minutes.
City brought on Mario Balotelli just after the hour mark, the striker didn't feature much but was left asking himself "Why always me?" after being sent off with a second yellow. I do think it was a bit harsh for the foul on Skrtel but after the amount of fouls he'd made whilst on the pitch, it wasn't surprising.
Manager Kenny Dalglish brought on Andy Carroll with 10 minutes to go for Liverpool. The Reds were having enough chances but there weren't enough bodies in the box to get on to the end of the crosses.
A worrying moment with minutes to spare for Liverpool was when Reina failed to dispossess Silva on his third run out of the box in the game. Silva in all honestly could have quite easily had a shot but he took way too much time, when he took his chance there were three defenders on the line and Skrtel managed to make the clearance.
Mancini brought on Kolo Toure to shore up the defence but there was still enough left in extra time for Liverpool to have one last chance. City who had given up on winning had put everything now on keeping the scoreline as it was but a superb header from
Andy Carroll
nearly descended City's blue moon into a red mist. Luckily for the away side Joe Hart with a great save prevented Liverpool from taking all three points.
After looking back, especially in the latter of the second half, some would say the Reds perhaps deserved to win but in the same thought, we can't really be disappointed with a draw against City.
There were plenty of positives too, we're now 8 games unbeaten, Lucas and Adam were immense and we got stuck in to City. Sides like theirs at the moment hate being bossed around, the hard tackles from the Reds knocked a bit of sense into the away side and i feel Dalglish's boys can be proud of their performance.
Next up for Liverpool is
Fulham
and with a nice run of fixtures after that, this could be a great time for Liverpool to quietly go about their business and rack up some points.
Get link

Facebook

Twitter

Pinterest

Email

Other Apps