Bellamy Scores In Dismal Bolton Display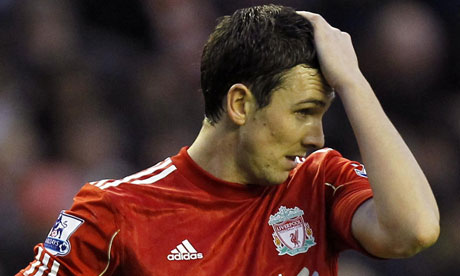 That's how we all feel mate...
If i walked into a club, thinking and acting like i was better than everybody else, i'd most probably, within an hour and a half or so, get battered. Which is exactly what happened to Liverpool on Saturday. They walked into Bolton's club, acting like they were better than them, like the three points were theirs before they'd kicked a ball and then, they were battered.
Inferiority complex is usually something i disagree with because i used to believe that footballers, whoever they play for, always want to beat the opposition, they can't be content with just thinking they are better and hope that magic does the rest.
Not everyone on the pitch yesterday suffered from this complex, Craig Bellamy is a good example, but too many players who should have been embarrassing a
Bolton
side, didn't look arsed.
Dalglish made his thoughts clear post match by saying
"If that's the level they expect this football club to play at, they won't be here long."
And fair play to him, i personally think Dalglish's team selection was the best under the circumstances and a hell of a lot better than the side he fielded at Stoke, this time, i have to agree, it was the players not the manager.
It took Bolton just 3 minutes to unravel the Liverpool defence. The space available for Mark Davies was ridiculous, he easily put the ball past Reina to the right of goal. It was a strange sight for Liverpool fans because we haven't been able to rely on goals being scored but we've been more than able to rely on our defence, to watch them beaten not once, but twice with such ease was quite shocking.
Their second goal was much of the same, Reo-Coker converted to put Bolton 2-0 up and in the midst of all this Liverpool still didn't appear to have that hunger and commitment to go and turn this game around.
Thankfully,
Craig Bellamy
is a man full of passion and fight. Personally i feel he has been our best player for a long time now and perhaps a lot of it comes down to the effort he puts in. The Welshman wasn't about to give up on the game. A ball headed on by Andy Carroll allowed Bellamy to go on a run and then sweep his effort past Bogdan.
At this stage it felt like Liverpool may just be able to get something out of the game but that wasn't going to happen.
Bolton scored their third just after half time. A sweet strike from Steinsson left Reina with no hope though Steinsson was perhaps given too much space to get the shot on. Liverpool had crumbled.
Bolton as we all know haven't had the best of seasons but they've always kept their fight, something Liverpool seemed to forget about on Saturday. Yes, we have a very important tie against
Manchester City
in the week but the last time i checked, at Liverpool and at any football club, your next match always matters most not the big glittering tie you may have coming up.
A performance certainly to forget, i just hope the players take the hint from both Dalglish's and the fans reactions, we understand we're going to lose games, of course we are, we're a side in transition, but losing like that in my eyes is unacceptable.