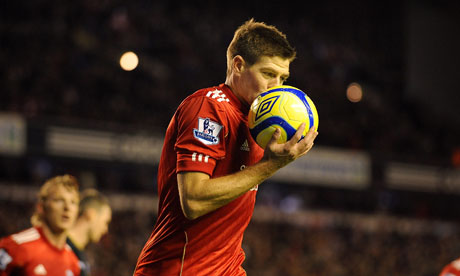 Gerrard kisses the ball after netting his peno...
Liverpool put five goals past an Oldham side that took the lead at Anfield on Friday night. A very different starting line up for Liverpool allowed Dalglish to try something new and for once Liverpool could be described as clinical rather than wasteful.
Oldham opened the scoring just before the half hour mark with a superb strike from Robbie Simpson. There were no complaints from the Reds for this goal, it flew past Reina with great speed. Cracking goal.
In the build up to Oldham's first goal, the away side were holding themselves well. For a League One side playing at Anfield they had their fair share of possession.
When Liverpool conceded though, the players immediately realised that trouble was on the horizon and thankfully Craig Bellamy quickly equalised to put the Reds straight back in the game.
Just 2 minutes after the
Oldham
goal and a Jonjo Shelvey strike carried itself into the path of Craig Bellamy who stuck his head on the end of it to ensure a goal. Bellamy once again was brilliant it's just annoying that he apparently can't play two games in a row.
Some increased pressure from Liverpool in the dying moments of the first half lead to a penalty for the Reds. A push in the box on Maxi Rodriguez was enough for referee Swarbrick to blow his whistle.
Steven Gerrard stepped up to the spot with real intent on putting Liverpool ahead. The captain with a great penalty smashed his effort high into the goal and Oldham were now trailing.
For most of the early moments of the second half it appeared to be the Craig Bellamy show, crosses and shots from the Welshman were troubling Oldham's defence.
By 70 minutes Oldham has lost most of their presence on the game and Liverpool made this more apparent when Jonjo Shelvey smashed in a third goal. His effort to the right of goal was great to see after Dalglish has recalled him back from loan, the lad deserved it.
John Flanagan and Stewart Downing were brought on shortly after our third goal and although Oldham showed fighting spirit it was clear there was no coming back now. Kenny Dalglish also saw his chance to bring on the big man
Andy Carroll
at 88 minutes as the Reds looked to tie this up.
Carroll has been on everyone's lips of late but i hope that his goal on Friday night has made some of the critics think twice. We know he isn't playing as well as he could be, but that doesn't mean the spark isn't there and who cares if it was "only against Oldham" there's no denying the quality of the striker's finish from outside the box, which bodes the question; why are we playing it to his head when he can do that? Haha.
Stewart Downing finished off the scoring for the home side in the 5th minute of injury time. The winger struck his effort high into the centre of goal and that was Oldham dead and buried.
For Liverpool it was a great win, if anything it should boost their confidence, because as I've already said, who cares if it's only against Oldham. The fact that 5 different players scored just shows you that they are capable of accuracy, maybe they felt more confident against the lower opposition i don't know but they would benefit greatly from taking that attitude into the Premier League game with them.
Next up for Liverpool is
Manchester City
in the League Cup.