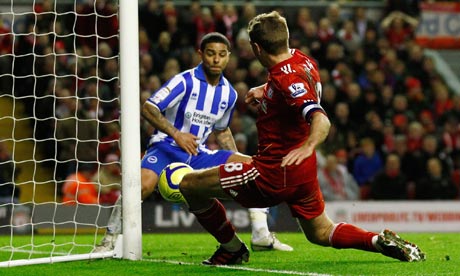 Gerrard never gives up...
Liverpool secured their place in the quarter finals of the FA Cup on Sunday after beating Brighton 6-1 at Anfield. Stoke were drawn out of the hat for Liverpool and the Reds will once again be at home as they look to close down on Wembley for a second time this season.
Gus Poyet set aside some time to share an embrace with his fellow countryman Luis Suarez before kick off but his little chat didn't appear to put Suarez off after the forward finished the game with Liverpool's 6th.
Dalglish despite some thoughts that he may field some youngsters went for a very strong side. The only real change strangely was the introduction of Carragher into the defence and most people wouldn't really moan at that anyway.
The Reds took less than 5 minutes to get off the mark after taking their chance from a Gerrard corner. A rising Skrtel at the near post put Liverpool ahead with a confident header.
Brighton after conceding so early still looked pretty strong and the final scoreline was perhaps a harsh outlook on their overall performance. Poyet's boys were determined to give Liverpool a game and they certainly stunned Anfield when LuaLua stepped up for a free kick.
After he was brought down by Henderson a fair way out of the box it was clear LuaLua was intent on having a pop at goal, the ball was placed for him and with a superb strike he placed his effort through the wall and into the bottom left corner.
There wasn't much to do but admire that effort and with things all square once again we certainly had a game on our hands.
The first half for Liverpool provided them with several corners and opportunities to cross the ball into the danger area. Of course the man awaiting all of this was Andy Carroll but he had a battle on his hands. The defender El-Abd was grabbing Carroll, hugging him, pushing him but surprisingly the ref was having none of it. In a sense though it actually helped Liverpool.
With all the focus being on Andy Carroll from their big butch defender, any other encroaching Liverpool player was left pretty much free to do whatever the hell the liked.
This was the case for Liverpool's second. A sublime take down from Luis Suarez in bags of space allowed him to take a shot. Brezovan managed to make a save but the ball didn't reach safety. Glen Johnson headed goal-wards but it was a goal-line clearance that deflected back in off Liam Bridcutt that put the 2 on the board for Liverpool.
It was an unfortunate goal for Brighton to concede but after the amount of pressure applied i think the Reds deserved it.
In the second half things got worse for Brighton. As mentioned above they were looking strong in the first half and had attempts coming in from the likes of Sam Vokes but they weren't quite providing enough to truly trouble Reina.
Andy Carroll was next on the list to put down Brighton's hopes of getting to the quarter finals. The big man had come close throughout the game but this time was clinical with his finish. A cross in from a much improved Stewart Downing met the feet of Carroll who smashed home for Liverpool's third.
By now the Reds were on a roll. They were creating plenty of chance in the first half but with three goals behind them, confidence was now in full flow.
Before the 70 minute mark Gus Poyet decided to make a double substitution. Mackail-Smith and Vicente were brought onto the field of play in an attempt to get a goal back and push Liverpool right to the wire. That didn't quite go to plan though...
Steven Gerrard found himself with a chance at goal shortly after the substitutions from Brighton but Brezovan made another great safe. Gerrard though in his typical never say die attitude chased down the splayed away ball and his cross back into the box met perhaps the most unlucky bloke in football - Liam Bridcutt. A deflection from him put Liverpool 4-1 up.
It was a real shame for Brighton because although they didn't deserve to win, they didn't deserve this and it wasn't over yet.
Not content with 2 own goals, Brighton figured they may as well make a record and get a hat trick of them. A pretty danger free cross from Luis Suarez was cleared by Brezovan once again but his defenders instead of helping him, hindered him.
Lewis Dunk for some reason despite having loads of time and space, controlled the ball on his chest and then instead of hoofing it away went for a sort of "keepy uppy" game with himself. His knee control wasn't quite up to scratch though and as he chased the ball towards goal you could see on his face that he'd just scored Liverpool's 5th.
I have no idea what he was doing and I'm sure he'll regret that for the rest of his playing days but i suppose he can take some comfort in the fact that it didn't make that much difference result wise.
A triple substitution from Dalglish after this goal saw Shelvey, Maxi and Kuyt enter the fray.
The Reds were awarded a penalty shortly after the subs when Dirk Kuyt was brought down by Craig Noone in the box. As Dalglish held up 7 fingers to make sure Suarez took the peno, Anfield was hoping he could convert and put the shine back on his football but the Uruguayan was clearly in two minds. His run up wasn't the best and neither was the penalty and Brezovan who had a good game as any goalkeeper could whilst conceding so many goals made the save.
It wasn't all bad for Suarez though because there was still enough time to find Liverpool a 6th.
A header back across goal from Andy Carroll was met by Suarez who once again was in plenty of space and the number 7 converted with ease to finish the Liverpool party.
It was a great game for Liverpool and with a sprinkle of moderate nudity as a streaker hugged a bemused Jamie Carragher, what more could you ask for?
With a quarter final against Stoke awaiting them the prospect of another trip to Wembley is becoming ever more likely.