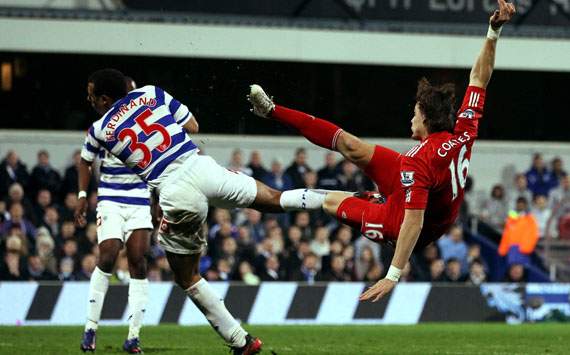 Coates' acrobatics put Liverpool ahead...
Liverpool fell to an embarrassing defeat on Wednesday evening at Loftus Road. Queens Park Rangers came from 2-0 down to beat Liverpool with three goals in less than 15 minutes. It was a shock to watch Liverpool crumble so quickly and easily after what started off as a good performance.
Dalglish decided it was time to reintroduce Charlie Adam to the starting XI for this one and he also dropped Carroll to the bench. Queens Park Rangers had a front line including ex Liverpool man Djibril Cisse.
The game got underway and was very much in Liverpool's favour. A first half consisting of mainly Liverpool possession left Queen Park Rangers struggling for ideas.
Chances from Kuyt, Suarez and Downing put the Reds just centimetres away from a first goal but as the chances kept coming it was clear it was going to be another one of those days. Liverpool just can't seem to finish and although sometimes it's down to a great save, most of the time it isn't and to be honest, there's no excuse when it happens this often.
Just after the half hour mark Liverpool had to bring off Kelly who suffered a knock and he was replaced with Uruguayan; Sebastian Coates.
The second half began with immediate substitutions from both sides. Mark Hughes introduced Taiwo to the game whilst Dalglish brought off a faltering and also slightly injured Adam and replaced him with Jordan Henderson.
The first goal of the game came just after 50 minutes and what a cracker it was! Sebastian Coates who may i remind you is a central midfielder and 6ft 6" was hovering around in the box after a Downing shot came back out to him and to the surprise of everybody present, he leaped into the air like an acrobat in the big top and smashed home Liverpool's first with a sublime scissor kick. Phenomenal.
Because this is basically the only positive of the game, I'm going to milk it. It was simply a fantastic goal. The skill and timing required to pull that off is at a ridiculous level for a striker let alone a defender. Awesome.
Liverpool now finally had a goal to back up their efforts but it was clear a cushion was needed and so the Reds continued to search for a second.
In the midst of all this Queens Park Rangers made a substitution taking off the ineffective Joey Barton and replacing him with Jamie Mackie. How important this one turned out to be...
The Reds found their second goal just after the 70 minute mark. Attempts from Suarez and Downing failed but an awaiting Dirk Kuyt closed in on a save from Paddy Kenny when the ball trickled out for him to place it into the back of the net from close range.
Liverpool were now in control of the game, they had their cushion and they still looked like they could perhaps add to their goal tally. What followed though was the total opposite.
Queens Park Rangers began to find some momentum and several crosses in to the box began to trouble Liverpool. With 15 minutes left to go however, surely a side as experienced as ours could hold their lead right?
Shaun Derry was first on the list of rapid goalscorers for the home side with a close range header. Liverpool at 80 minutes replaced Suarez with Carroll just in time for him to witness QPR's second.
Another header but this time from that man Cisse and again from close range meant Liverpool had just lost their lead and ultimately their 3 points. This was shocking enough but as the Reds attempted to desperately get going and maybe, just maybe find a winner, it was Queens Park Rangers who got the opportunity.
In the first minute of added time as Liverpool continued to crumble like a sand castle in the rain, Jamie Mackie crossed the moat and found the home side a winner with a shot to the left of goal. A mistake from Jose Enrique who should have been manning the drawbridge left Liverpool fans gobsmacked.
How, on god's green earth did that happen?! 2-0 up at 76 minutes then 3-2 down at 91. I just can't put my finger on it. Credit to QPR for their win but in all honesty, it shouldn't have been allowed to happen. The 11 lads out their for Liverpool just fell to pieces and I've not seen a performance as bad as that in some time.
Totally gutting. There are some extreme views once again calling for Kenny's head and whilst i agree he must and should take some of the blame for a frankly disgraceful performance i don't feel he should leave and certainly not yet. Things need to be assessed at the end of the season though, there's no doubt about that. Some of those players think they have the divine right to start for Liverpool and i see no ounce of passion to get a result or to fight back from a draw.
With 4th even further away now i think the FA Cup is a must. A haul of silverware might just take the bitter taste away from some very forgettable performances in the league this season.