Get link

Facebook

Twitter

Pinterest

Email

Other Apps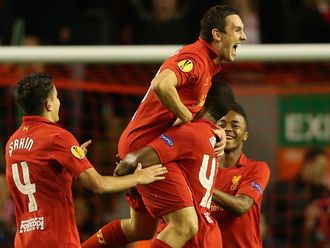 Downing celebrates...
Image: Link
Brendan Rodgers went for a very strong XI against Guus Hiddink's Anzhi on Thursday night after many expected a weakened side. The only real fringe players were Brad Jones in goal and Stewart Downing who would end up proving he still has at least something left in his locker.
Anzhi's megabucks line up consisted of Samba, Zhirkov and Eto'o but it was evident from the whistle that the Russian's plans were to get the ball to the latter and hope for the best.
Liverpool started confidently and were strong in keeping the ball. Possession is obviously very close to Brendan's heart and I think the majority of Thursday evenings performance backed up that mentality. Game stats did finish at exactly 50/50 in possession though.
The Reds first real chance fell to Jonjo Shelvey but he couldn't quite convert his effort into a lead for Liverpool. It was safe to say from the tone set though that the Anzhi keeper would have a lot coming his way throughout this 90 minutes.
With little away fans present, a decently filled Anfield provided a perfect European atmosphere for the fixture, all that was missing was a goal.
The back four were dealing very well with any incoming Anzhi attacks and so too was Brad Jones. A clean sheet looked very possible and whilst this is obviously a positive I still find myself worrying about our lack of goals, especially in games like these.
Assaidi and Johnson had a fantastic start to the game linking up wonderfully together and Johnson nearly managed to get Liverpool off the mark. Assaidi isn't afraid to take the ball out wide in order to gain his advantage something wingers these days don't seem to do, several players (and sometimes it works wonders) are too keen to cut inside at the first opportunity.
In the second half Glen Johnson had to be replaced with the young Raheem Sterling who was as always very eager to get involved.
It was Stewart Downing though who had moved into a left back position for the second half who would find Liverpool their goal. Downing is a bit of a mystery for me to be honest, I've probably said before that I don't think he's terrible, there is definitely something there and it was on show at his previous clubs but at Liverpool for me he hasn't warranted a starting position and perhaps harshly even after last night I still think he needs to keep up the hard work to gain a place.
Pushing that a side you cannot fault the lad whatsoever for his goal, it was an absolute cracker!
On the left channel and a fair way out from goal he saw his chance to have a pop, with his right foot his powerful strike flew into the top right corner leaving everybody pretty gobsmacked.
I must admit when the goal went in I didn't properly see who struck it and my last guess was Stewart Downing, unbelievable.
As the second half went on Anzhi were still very much in the palm of Liverpool's hand and with Eto'o only having one real strike stopped it looked as though the Reds would be able to keep their concentration and collect an important 3 points.
Daniel Agger at 80 minutes decided he may as well double the home sides tally after a cheeky George Best-esque goal which was disallowed. The Dane headed the ball from the Anzhi's keepers hands and put the ball in the back of the net with a superb finish but it wouldn't count, can't blame him for trying though haha.
As the clock ticked down Anzhi found themselves with a final chance to cause some trouble in the box after they were awarded a free kick, remarkably though instead of whipping it straight into the area it was passed directly to Eto'o and the danger filtered out.
It was a calm performance from Liverpool and it only needed the one goal to secure the points, add to this a clean sheet and all is well. Top of the group with Anzhi away next in the Europa League. Liverpool's immediate port of call though is Goodison on Sunday...
Get link

Facebook

Twitter

Pinterest

Email

Other Apps