Rodgers On Sturridge, Coutinho & His Start To Liverpool Life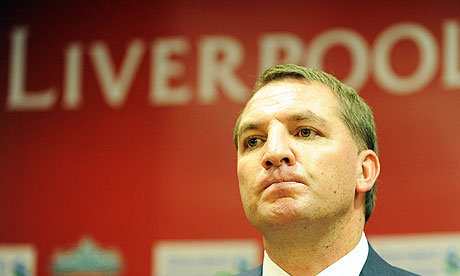 Thinking time...


Image:

guardian.co.uk
I don't usually make posts like this but after being given access to some nice quotes from Yahoo! I figured I should get something written up because I know it would be of interest to you readers! I'd like to point out that as always I'm not being funded for this, you know from looking around the blog that I don't even pair up with advertising at the moment let alone paid posts, it's just not my style.
With a few games left in the season it seems as though Brendan Rodgers will be able to steer his side to the Europa League but the early hopes of Champions League football have been dashed. It's been a bit of an inconsistent start from Rodgers but these things take time, he was dignified enough to realise early on that his original blue print of the Swansea set up wasn't going to work for Liverpool and some good signings plus some reverse psychology with the likes of Stewart Downing have allowed him to form a real attacking side this season. It hasn't gone perfectly to plan but on the whole I think you have to agree he's on the right track and we're all behind him.
This week Brendan has been talking about some of his signings.
When asked about Daniel Sturridge and his start for the Reds Brendan replied
"He has settled in very well, but he still has lots of aspects of his game to work on in order to achieve what he wants to and to allow him to make the kind of impact that he wants."
I personally was very pleased by the signing of Sturridge because in my opinion he was exactly what we needed there were some doubters but I feel after his goalscoring start he may have silenced some critics and as Brendan says he still has things to work on and Sturridge is still young.
Brendan was then questioned on the ever impressive Philippe Coutinho and the height and build of the ex Inter Milan man was brought up. Brendan replied:
"He might be slight in stature but he's still got real power and mental strength too, plus he's a wonderful technician."
In terms of Brendan's start to Liverpool life he was asked about the fans reaction to his arrival as manager and whether he was pleased with how we have taken to his style.
"Our supporters have shown exactly why they are so well renowned - I've really felt and appreciated their support."
I think it's fair to say that it was a tough situation for Brendan to step into after Dalglish had just won a cup and being the legend he is, it was a hard place to come whoever took the job and as you all know Brendan perhaps wasn't my own first choice but that's one thing you always get with Liverpool fans - support (to a certain extent, Hodgson had his time) and Brendan knows that whilst he's here and implementing his plans there may well be a few moans but every Saturday by kick off, we're 100% behind him and the lads.
Another quote that popped up from Brendan during the interview which I felt was very interesting was:
"What is also important, though, is that we are not held hostage to our history."
he couldn't really be more spot on.
The second part of the interview is released tomorrow, if I get chance I will get another post up!
For more insight from Brendan Rodgers and other leading managers plus exclusive Premier League highlights go to www.yahoo.co.uk/sport