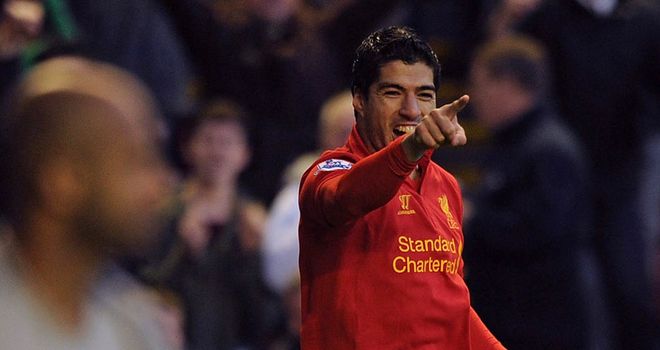 Suarez has been awesome this season...


Image:

skysports.com
Like Thursday's post on the blog I've kindly been given quotes from Yahoo! for the second half of their interview with Brendan Rodgers. This time it's mainly all about the magical Uruguayan - Luis Suarez.
After being asked whether Luis Suarez was the most talented player he had worked with Brendan was a bit reluctant to make that claim saying it wasn't fair on other people he had and was yet to work with but he did say:
"What I am sure of though, is his warrior spirit and I love his humility, work rate, attitude to training and his desire to be a winner."
The neutrals will always have their negative opinions of Luis Suarez but I don't think anybody can deny his work rate and attitude, even on an off day when he hasn't got his shooting boots on you'll never find Suarez giving up, he chases down balls that everybody else has rendered pointless, he's always on full cylinders.
Next Rodgers was asked whether Suarez will be in with a chance of winning PFA player of the year this season:
"He will certainly be in the reckoning. His league goals alone should put him in with a great shout but you also need to look at his consistency throughout the season that makes him arguably the best player."
Obviously many people would bring up Gareth Bale too and as much as I dislike him they're obviously right to however in terms of consistency and goals scored I feel you have to punt for Luis Suarez.
Next the interview turned on to the topic of Suarez's villain status:
"I know what it was like when I faced him as an opposing manager" Brendan said.
"I always viewed him as a pest around the penalty area"
"When you know him as a person and as a man like we do here, you can see why so many people love him."
"It's not his job to be liked, he'll be respected because he's a top football player and it won't concern him too much if people don't like him."
"He is one of the most likable, most humble people I've come across."
The next part of the interview moved away from Suarez and on to Steven Gerrard and Jamie Carragher.
Brendan was asked whether this season had been Gerrard's best in terms of consistency and leadership he went on to say:
"It's been his best season in relation to the number of games he's played - he has played every minute of every game for us this season and as a leader of the team he has been immense. It has been a real privilege to work with someone of that calibre and quality."
Then came the topic of stalwart Jamie Carragher, how big of a gap would be left when he retires?
"He'll be a big loss because of the length of time he has been at the club."
"I will miss Jamie's drive and determination that he has shown since I've been here, and I know that is something he has been doing all his life."
Finally Brendan was asked about the redevelopment of Anfield and how important that would be to the club. He said:
"We have two main objectives; one is to arrive into the top four and the second is the redevelopment of Anfield. That will make us a bigger club financially and help us to compete more; we have to keep building towards that."
Once again these quotes were obviously not gained by myself and the reason I received them so early is because of Yahoo! so if you want to read more on their website see below.
For more insight from Brendan Rodgers and other leading managers plus exclusive Premier League highlights go to www.yahoo.co.uk/sport