With the Euros starting on Friday, kicking off with host nation Poland facing Greece I thought it would be nice to do a round up of the Liverpool players at the England camp in Poland. Injuries to some of the England players meant that the original 4 Liverpool squad members was increased to 6 by Roy Hodgson.
Steven Gerrard
Image:

telegraph.co.uk
Steven Gerrard is England's captain for Euro 2012 as chosen by Roy Hodgson. As Liverpool's long standing captain we all know he has a real presence over 90 minutes and can encourage or spark a performance out of most players.
More so than ever though Steven Gerrard is left in a tough position because Hodgson's side this year is one of change and of youth. There's some experience next to Gerrard in Scott Parker but many of the midfielders and forwards are lacking in England caps.
Gerrard is of course more effective in a more attacking role but in this particular England set up and in Roy's plans he will have to settle for a more defensive one. The plus side hopefully being that with Andy Carroll as a possible regular up front starter, Gerrard can and will be aware of the types of ball Carroll is after. Despite the need for Gerrard to play deeper you can still guarantee he'll be constantly drifting in to more forward positions.
Gerrard has 19 goals for England, his most recent coming in a friendly at Wembley against Hungary. He also scored in England's rather poor campaign during the World Cup in South Africa in 2010. In fairness to Gerrard during that poor campaign he was one of the better performers.
As Liverpool's main representative and with a lot of pressure being captain I'm confident Gerrard will do well whether England do as a whole though is a different question.
Andy Carroll
Image:

sabotagetimes.com
Towards the end of last season for Liverpool the big Geordie finally began to find his feet and found some of the form and goals that he consistently had in his playing days at Newcastle.
For some, Carroll isn't the ideal choice up front, many England fans would rather see a single striker and one with a more skillful ability. With Wayne Rooney unavailable to start though and Jermain Defoe sadly looking as though he will miss England's first game after the passing of his Father, it looks as though Carroll will almost certainly be involved in the starting line up.
Some argue Welbeck should start alone but it appears Hodgson likes the idea of Carroll's command and presence and I must admit, so do I. People forget that Carroll doesn't just provide a goal threat but he's an extremely effective method of support for the other forwards and any wingers encroaching in to the box. He's better with his feet than some people give him credit for and can set up goals just as good as he can convert them.
The other plus side for me in a strange way is that for me at the moment, I personally feel he fits into the England side better than he does the Liverpool one. Roy's tactics may not have been suited to Liverpool when he was shortly at the helm at Anfield but I feel they will and should benefit Carroll greatly.
I'm not expecting him to score bags of goals although would be over the moon if he did however I can see him scoring important goals and having a decent tournament overall.
Stewart Downing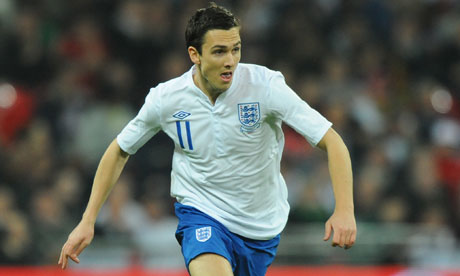 Image:

guardian.co.uk
Downing is a bit of a jar of marmite at Liverpool at the moment and I certainly won't hide from the fact that I criticised him on several occasions last season. As a winger you would hope that he was confident in his assists but he appeared to fall at the first hurdle a fair few times last season.
Despite this, we know, especially from his days at Aston Villa that Downing is fully capable and on his day is a cracking player. He doesn't score many goals but that isn't what Hodgson has called him up for.
With Gerrard in the centre of midfield I would hope that their familiarity with each other could benefit the England side. Downing is versatile and so it will be interesting to see if Roy starts him on his preferred left side or on the right.
No disrespect to Downing at all but I get the feeling that he will fall into a more unnoticed role this campaign if he gets the starts. In a sense this isn't a bad thing because players like Barry and Lucas at Liverpool often go unnoticed when what they are providing to the team is actually very good and usually of utmost importance.
Glen Johnson
Image:

telegraph.co.uk
Glen Johnson for me has earnt his place in this England side and with injuries hitting the back four he will surely start. Many neutrals have said that a lot of the Liverpool players called up haven't really earnt their place but Glen I feel is one who has.
He may not have had a perfect Liverpool campaign but then who did last season? What he has done though is feature in several important fixtures and pull out some top performances when they mattered most.
Glen for me is the perfect full back especially when concerning the England side because his confidence and ability going forward is enough to fluster any player and if he can produce it in the Premier League then he can surely trouble the likes of Sweden, Ukraine and France within our group.
Glen also strikes me as one of those players that truly feels pride when he pulls on the England shirt. I'm one of the less excitable England supporters because it's just never the same when it's not your club and I know that a vast majority of Liverpool fans don't give a toss about England but I think it's nice to see a player take great responsibility and I get the feeling that Glen with have a very good tournament.
Jordan Henderson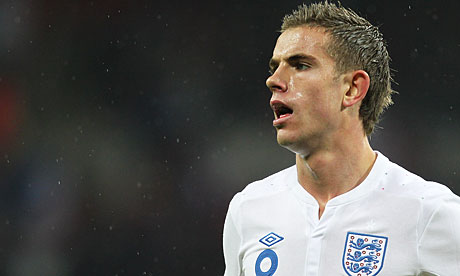 Image:

guardian.co.uk
Jordan was very much favoured by Kenny Dalglish last season and he started nearly every game for Liverpool. At 21 years of age Jordan still has a lot to learn but his effort last season encouraged most Liverpool fans to get behind him and slowly but surely he seems to be learning his trade.
After Frank Lampard got injured it was perhaps a shock call up from Roy Hodgson especially to the neutrals but for Liverpool fans it was fantastic. The England camp was turning remarkably red.
It is quite feasible to suggest that Henderson won't get a chance to start but if he is given one then he should flourish in an England side consisting of the likes of Steven Gerrard and James Milner in midfield. The slightly different set up for England will also give Jordan another opportunity to gain experience and hopefully learn some lessons.
Given the chance to I think Jordan could impress some England fans during this tournament and will undoubtedly progress along the way.
Martin Kelly
Image:

thefa.com
The biggest surprise of them all apparently, certainly so in the eyes of the media who are more concerned with the goings on between Terry and Rio was the call up of Martin Kelly.
The thing I don't understand pushing the issues that Roy hasn't explained properly about Terry and Rio aside is that most, if not all proper England fans, I mean the lads that travel all over the shop with trumpets and stuff... Are ALWAYS saying that the England side needs youth, they need a change, a risk, an upcoming talent. So why then when exactly that in the shape of Martin Kelly is chosen are we still moaning about a 33 year old being left at home?
Don't get me wrong, I don't like John Terry or Rio Ferdinand and it's up to them to sort out their differences but for me Terry is the better player and unfortunately for Rio, that means he was going to be chosen, but then I suppose you could argue that maybe Roy shouldn't have chosen either. The other thing about Terry is, he's sort of Mr. England isn't he? So you'd struggle not to take him but then Rio isn't exactly going to not give his all? Anyways, nobody cares about that...
My point is that pushing those issues aside people should be excited about the prospect of Martin Kelly. Neutrals who have watched him in Liverpool games should have spotted his confidence and his ability to push forward. The other thing that always gets me about Kelly is that he is fearless. I remember the first time I properly watched him play and he was diving in to tackles like nobody's business and usually successfully.
He's a cracking young player and has gone from strength to strength in his time at Liverpool. Maybe I am overly excited because he is a Liverpool player but I honestly feel there is a reason to start him in the tournament.
I do see the argument that Kelly should not have been called up to replace a centre back because he doesn't play there but nevertheless, for me, Kelly is a very useful player to have on the bench and many people will be surprised if he gets the chance to start.
Euro 2012 Overall
As for my overall thoughts, well firstly it's brilliant there are 6 Liverpool players travelling as it makes it so much easier to get behind the England side. I also think that the likes of Carroll and Gerrard could be very important to the side during this tournament and I hope they do well.
As for England's chances, we should really get out of the group stages but the problem then becomes massive. If we finish winners we face the runners up of Group C and if we finish runners up we face the winners of Group C.
Going on predictions, you would think that Spain would win the group with Italy following and so for me England would need to pull off a stonking performance to get past either of those two. Italy would be easier to take than Spain but I still don't think England could beat either of them, hopefully however I'll be wrong... It does happen quite a lot! Haha.
Enjoy the footy folks, I hope all your countries do you proud!